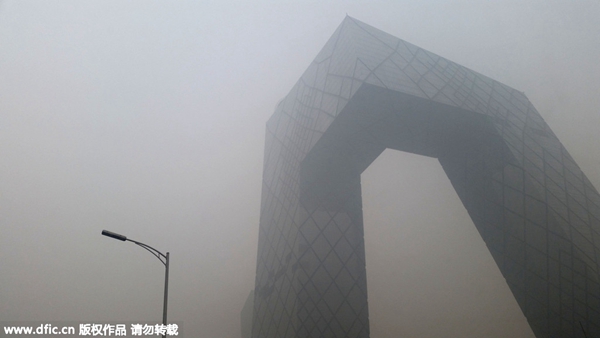 The China Central Television (CCTV) headquarters is obscured by severe smog in Beijing in January, 2016. [Photo/IC]
HANGZHOU -- A Chinese enamel manufacturer claimed it has invented a new construction material that turns the exterior of buildings into air purifiers.
Kaier New Materials Co Ltd, based in East China's Zhejiang province, recently announced that it had developed a new kind of enamel block that can decompose air pollutants, including PM2.5, into carbon dioxide, mineral salt and water.
Shu Wenxiao, a researcher with the company, said, "We have added a highly oxidizing and hydrophilic nanometer material into the enamel. The new material will have a photosynthesis-like reaction with organic air pollutants such as nitrogen oxides and sulfides."
PM2.5, airborne particles smaller than 2.5 microns in diameter, is made up of pollutants including organic matter, sulfates and nitrates.
Shu estimates that every 200 square meters of enamel block have a similar air purifying effect as 14 mature poplar trees. "If we cover a 100-meter tall building with 20,000 square meters of the material, the building will be able to purify air as efficiently as 1,400 poplar trees."
Shu Wenxiao said that the water produced from the chemical reaction can form a thin film on the outside of the buildings, which will mean the walls need not be washed.
According to the company, the self-cleaning ability was confirmed by a construction material testing center earlier this month, but the air-purifying function is waiting authentication.
"The material has been used on the exterior walls of our building for ten months as a trial and it has decomposed pollutants," he said. "However, we have no plans to bring the product to market just yet. Domestic testing institutions lack standards for such material, and we are looking for foreign organizations."
Doubts have been raised. Pan Liangjiang from a Zhejiang-based environmental protection technology developer said, "Technically speaking, it is possible for nanometer material to decompose organic matters using sunlight.
However, the feasibility of actually using the material in construction is questionable. There are some issues to consider. For example, whether the mineral salt created will reduce the material's effectiveness life. Will reduced sunlight in smoggy weather affect the decomposition effect?"