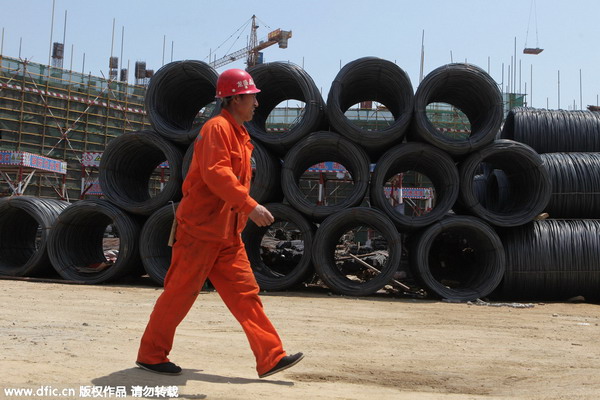 A Chinese worker walks past a stack of coiled steel rods on a quay in Rizhao city, East China's Shandong province, April 29, 2015. [Photo / IC]
BEIJING - Capacity cuts and restructuring of China's steel industry will be accelerated in the coming year thanks to weak domestic demand, a Moody's report said.
Slow investment in property sector and infrastructure development, as well as weakening manufacturing activities, will drag down domestic demand for steel, which will in turn reduce profits of steel makers and force small players to exit the market, according to Jiming Zou, a Moody's vice president and senior analyst.
"The slowdown in demand is worsening oversupply and sending Chinese steel prices to historic lows," Zou said.
According to data from the China Iron & Steel Association, large and medium-size steel companies swung to an overall loss in the first eight months of 2015 from profit a year ago.
Domestic demand for steel will fall by 5 percent year on year over the next 12 months, Moody's anticipated, adding overall sales volumes will fall 3 to 4 percent.
Moody's predicted capacity removals and restructuring of the steel manufacturing industry will speed up in the coming one or two years, in view of the weak business conditions.
Small private steel mills will exit the market due to limited resources to cover losses and rising environmental costs, Moody's noted. While leading companies such as Baosteel Group Co., should gain bigger market share because of their strong product offerings and capacity expansions.
In the first 10 months of this year, China's crude steel production dropped 2.2 percent year on year to 675.1 million tons, the National Development and Reform Commission said Saturday.
The composite price index for domestic steel products stood at 60.11 points in October, down 1.62 points from September and 26.24 points from a year earlier, the statement said.
The data came amid indicators of slowing economy. China's GDP expanded by 6.9 percent in the third quarter of this year, the slowest quarterly growth in six years.