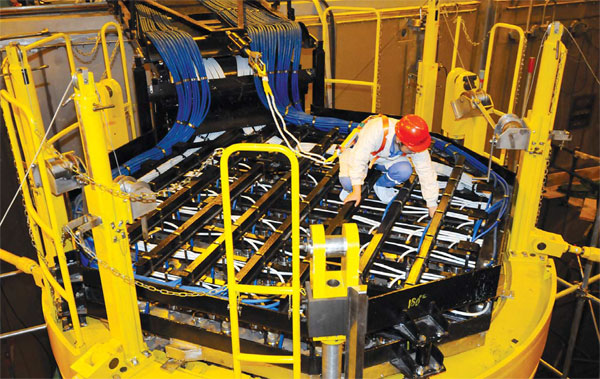 A worker at Guangxi Fangchenggang Nuclear Power Plant, which uses Hualong One technology. [Photo provided to China Daily]
The development of nuclear power in China is set to gain momentum in the next five years as the country prepares to inject hundreds of billions of yuan into building nuclear plants.
More than 100 nuclear power plants will be put into operation by 2020, with a nationwide capacity tripling that of 2014 to reach 58 million kilowatts, the China Times reported, citing a draft for the 13th Five-Year Plan (2016-20).
According to the document, the government is expected to invest about 500 billion yuan ($78.8 billion) to build six to eight new plants annually during the period.
"Safety guaranteed, nuclear power should be developed rapidly and efficiently," Lin Boqiang, director of the energy research center in Xiamen University, was quoted as saying.
Liang Haiming, an economic commentator, said the development of nuclear power would attract investment of more than a trillion yuan in the next five years, as an estimated 20,000 yuan is needed per kW.
Chinese nuclear energy authorities have recently concluded research into 31 nuclear power generation facilities in some inland regions, indicating the controversial resumption of new plants' operation in the near future.
The country suspended its nuclear power projects in the wake of Japan's Fukushima disaster in 2011.
In the meantime, Chinese companies have been stepping up efforts to go global with their top-notch nuclear power technologies in recent years.
Reports said the China General Nuclear Corporation and China National Nuclear Corporation (CNNC) are likely to fill a private financing shortfall of the United Kingdom's Hinkley Point C nuclear power plant, supported by the UK government's £2 billion ($3.1 billion) guarantee, during President Xi Jinping's state visit next week.
The CNNC will also partner with Argentina's NA-SA to build the two nuclear reactors in a deal signed during Argentine President Cristina Kirchner's visit in China.
Export of China's nuclear power technologies, as well as high-speed railway technologies, has been a major part of the country's 'Go global' strategy, said Liu Yongde, secretary general of China Atomic Energy Authority.