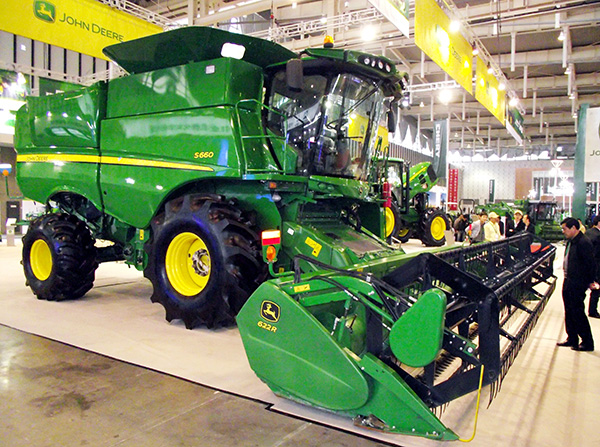 A John Deere combine on show at an international exhibition of farming machines in Nanjing, capital of Jiangsu province. Demand for big farm equipment is growing rapidly in China as the government promotes efficient agriculture. [Zhen Huai/for China Daily]
The world's largest makers of tractors and combines are finding a rare opportunity for growth in China despite a sharp slowdown in the world's No 2 economy, with big farm machines in demand as the rural labor force shrinks and plot sizes grow.
For manufacturers like United States-based AGCO and Deere & Co and Italy's CNH Industrial, Chinese demand for big machines could help to offset weakness in North America and Europe, where farm incomes are declining with global commodity prices.
The trend also contrasts with stalling sales in construction equipment and passenger cars, which have been hit by the slowing Chinese economy.
Driving this binge on bigger, more powerful equipment to till larger farms is a combination of labor migration to the cities, land reforms and government subsidies that is spurring consolidation of the country's vast small landholdings.
"People are just getting ready," said Alexious Lee, head of China industrial research at investment bank CLSA, pointing to the widespread move toward larger farms.
"Whether from the dealers or the financing side, everyone is skewing toward this angle."
The average farm in China was smaller than a football field in 2012, but still nearly 900,000 "family farms" had an average size of 13.3 hectares, according to data from the Ministry of Agriculture.
While these family plots were still less than a 10th of the average US farm, further expansions in sizes are expected as Beijing urges more efficient agriculture and takes steps toward reforming land rights.
Several thousand State and cooperative farms of about 3,500 hectares each also need bigger tractors and combines to cultivate and harvest their agribusiness-size plots.
Total sales of 100-129 horse-power tractors in China increased 38 percent in the first half of 2015 compared with the same period last year, according to AGCO, owner of the Massey Fergus-on brand.
And even though overall farm equipment sales for AGCO and others in China were flat through the first half of the year, long-term prospects look brighter.