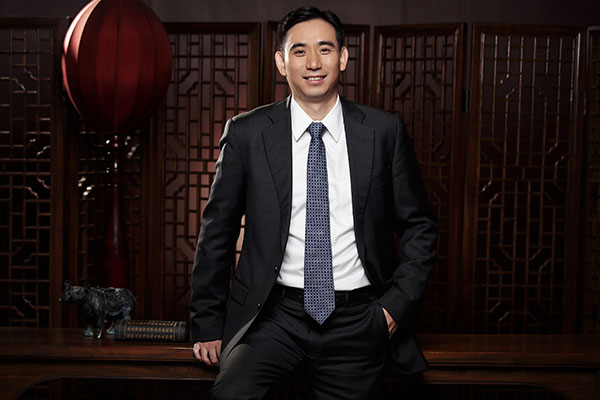 Jin Chenhai, vice-president and general manager of US-based Honeywell Transportation Systems China. [Photo provided to chinadaily.com.cn]
Technology innovation is the DNA of Honeywell, and the company is trying to make China greener with its latest technology and the newest products, according to Charles Jin, vice-president and general manager of Honeywell Transportation Systems China.
The turbocharger is a mature engine boosting technology that can help provide up to 20 percent fuel efficiency compared to a naturally aspirated engine of the same rated power, while helping reduce emissions without sacrificing the engine's performance.
Bringing world's first automotive turbocharger into life 60 years ago, Honeywell has just celebrated its 20th anniversary in China. With an annual production capacity of one million, it built its first plant in Shanghai in 1994. A Wuhan plant in central China's Hubei province was built in 2013, and has an annual production capacity of two million units, to support Honeywell's rapid growth in the China market.
As China's fuel economy target is 5L/100km by 2020, the world's largest auto market aims to reduce emissions and achieve fuel efficiency at the same time.
With this aim, a report from Honeywell forecasts that by 2020, turbocharger penetration on new vehicles sold in China is expected to reach 47 percent from the current 28 percent.
By 2015, about 44 percent of new passenger vehicles in China will be installed with turbochargers, according to the company's forecast, which was released at the 2015 Frankfurt Auto Show on Sept 17.
China Daily website had an exclusive interview with Jin, who shared information on the company's latest products, China strategy and secrets of success in China.
Here we present excerpts from the Interview.
1. One type of Honeywell turbocharger was awarded in June, and has been installed in the Citroen C4L. Can you give a brief introduction to it? Is your company planning to promote it to other vehicle manufacturers?
The engine is a 1.2 T, and it is in production in China, supporting some newly launched vehicle models. This boosted engine is highly fuel-efficient, also delivers impressive torque at low engines speeds and good transient response through the entire range of engine speeds virtually eliminating any lag in turbo operation.
We have cooperated with almost all the mainstream local vehicle manufacturers in China, such as Geely, Great Wall, and Chery. In the first half of this year, Honeywell turbocharger boosted 9 newly launched vehicle models, including SUVs and family sedans. In the future, we expect to see more cooperation in China, not only with local producers, but also muilti-national companies(MNCs).
2. So far, what is your company's market share in China?
Honeywell sees a compound average growth rate (CAGR) of 20 percent in passenger vehicle segment in the next five years, while the growth in this segment will be higher than this number.
3. In your opinion, what contributes to Honeywell's success in China? What is the advantage of Honeywell products compared with your competitors' ?
Firstly, innovation is the DNA of Honeywell. Honeywell Turbo Technologies enjoys a strong aerospace heritage. The collaboration between turbo and aerospace engineers provides Honeywell with a level of expertise unrivaled in the turbocharging industry especially in Aerodynamic, material & process, and ball bearing technologies.
Secondly, we have "East for East" solutions, namely, we have a specific platform to develop customized products for Chinese market, aiming to meet Chinese consumers' need. We have a turbo R&D center in China to localize our technology, instead of only bringing global products.
Thirdly, Honeywell aims to become the Chinese competitor. We are trying to become a company that has Chinese-style competitiveness.