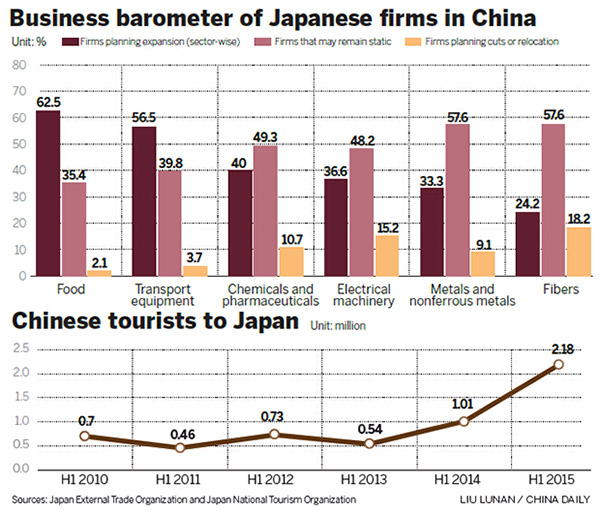 Improved business sentiment prompts companies to scale up their China operations
Most of the Japanese companies in China are willing to expand their operations, signaling improved business sentiment after a sharp contraction last year, a top Japanese trade official said on Wednesday.
Food and transportation equipment manufacturers showed the strongest desire to expand their business in China whereas export-oriented companies were less motivated, said Yoshihisa Tabata, director-general of the Beijing office of the Japan External Trade Organization, citing a survey conducted by the organization.
Optimism about China's economic reform and transition as well as improved political relationships are cited as reasons for the improved business sentiment, the survey showed.
It was conducted among 35 Japanese companies in China between June and August against the backdrop of a 40 percent contraction of Japanese investment in China last year due to the slowing Chinese economy, rising labor costs and the depreciation of the yen.
"The declining investment trend seems to have ceased and most companies we surveyed expect China's economic growth to be stable," Tabata said, noting that total Japanese investment in China will remain at around $4 billion this year.
Chinese consumers have shown a surging interest in Japanese products while the number of Chinese visitors to Japan has soared, which offer more investment incentives to Japanese companies, he said.
During the first seven months of the year, the number of Chinese visitors to Japan more than doubled to 2.76 million, exceeding the total number last year, according to the Japan National Tourism Organization.
"The shopping spree by Chinese consumers indicated that consumption and the services sector will be a key driver of future growth. It means a lot of opportunities for us to explore," a Japanese trading company was cited by the survey as saying.
The Chinese government's push for more investment in infrastructure projects and the growing demand for automation at Chinese plants will also help drive business for Japanese equipment manufacturers, the survey said.
Most of the Japanese companies said that they have not felt any immediate impact on their business from China's stock market crash, but some expressed concerns that it might weigh on future personal consumption.