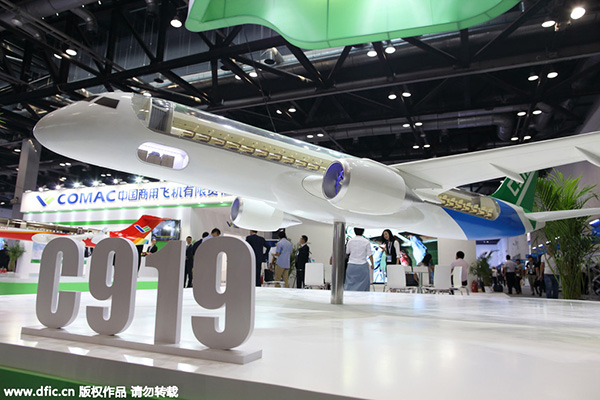 C919 model is displayed at the 16th edition of the Beijing International Aviation Expo in Beijing, the capital of China on Sept 16, 2015. [Photo/IC]
Russia and China are expected to sign an intergovernmental agreement on the joint development of a widebody jetliner before the end of the year, according to the president of Russia's United Aircraft Corp.
The agreement would specify each country's responsibilities and profits from the project, Yury Slyusar said.
"So far, the project has proceeded well, and we plan to determine the technical requirements, specifications and outsourcing methods in March."
Slyusar dismissed speculation that the new jetliner will be a rival to China's domestically developed C919, whose maiden flight is scheduled for next year.
"The new jetliner is totally different from the C919 in terms of passenger volume and flight range. The two aircraft are aimed at different markets, so they will not compete with each other," he said, adding that the new plane will be able to carry 210 to 350 passengers, depending on the seating arrangements.
Slyusar was speaking on the sidelines of Aviation Expo China 2015, which ended in Beijing on Saturday. United Aircraft Corp took part and displayed several types of civilian aircraft, including the Sukhoi Superjet 100.
Russia began floating a proposal for a jointly developed widebody jetliner in 2012, but the Chinese government and Commercial Aircraft Corp of China did not appear interested in the idea at the time, industry analysts said.
The turning point came in May last year when COMAC said it had signed a cooperation memorandum with United Aircraft Corp on the joint development of a long-range, widebody jetliner, and confirmed that preliminary research had started.
In February, Slyusar told Russia's Sputnik News Agency that the two countries would invest $13 billion in developing the plane. They had agreed that China would produce the fuselage main frame, while Russia would be responsible for the wings and tail parts.
Speaking at a news briefing in March, Foreign Minister Wang Yi said the two countries would speed up development of the aircraft.
Responding to speculation that the plane would be an upgraded version of the two-decades-old Ilyushin Il-96, Slyusar told reporters at the Paris Air Show in June that it would feature a new design because it had to be developed from scratch.
Wu Peixin, an aviation industry observer in Beijing, said Russia has great experience and know-how in developing large aircraft. China has advanced technology in avionics and aviation materials, so the collaboration is likely to result in an airliner capable of breaking the Airbus-Boeing duopoly, Wu said.
According to the Aviation Industry Corp of China's outlook for civilian aircraft for the next 20 years, about 37,900 passenger aircraft will be required globally and the Chinese mainland market will acquire more than 5,500 passenger planes.