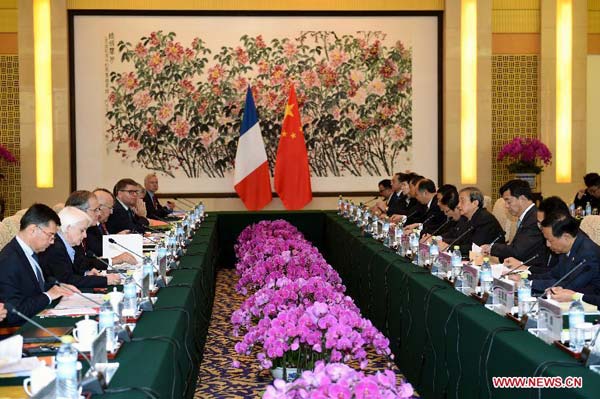 Chinese Vice Premier Ma Kai and French Finance Minister Michel Sapin co-chair the third China-France High-Level Economic and Financial Dialogue (HED) in Beijing,Sept 18 2015.[Photo/Xinhua]
China and France agreed to set up a joint fund by November to channel capital into investment projects in markets other than the two nations, part of around 40 agreements reached at a high-level dialogue that ended on Friday.
The fund will be dedicated to identifying and implementing new projects globally across different sectors, with a special focus on infrastructure, renewable energies, healthcare, clean transportation and the environment, according to a circular issued after the third Sino-French High Level Economic and Financial Dialogue, which was held in Beijing.
Premier Li Keqiang, while meeting with the French delegation on Friday, said the fund is a breakthrough that will bring more openness and market vitality.
French Finance Minister Michel Sapin said the two sides have exchanged extensive views on jointly developing other markets, such as in Africa, where France has traditional strength.
Sapin said investment in the fund will be equally divided between the two nations, although the size of the total fund and the potential projects to be funded were not decided yet.
Worldwide cooperation in project development, such as in Africa, will leverage China's industrial capacity with advanced technologies in France and will benefit France, China and third-party markets that participate, Sapin said.
A joint conference will be held in Africa next year to discuss how to carry out such cooperative projects on the continent.
In addition, the French government has pledged that, if the Chinese yuan fulfills eligibility criteria, it will support the yuan to be included in the Special Drawing Right currency basket in the International Monetary Fund's upcoming review.
"The French side would be glad to see the Chinese yuan and the euro play a bigger role in global trade. We agreed that the role of the renminbi should be reinforced on the global market," and so should the euro, Sapin said.
He added that France welcomes China's investment in the country and said he believes the Chinese government has the ability to deal with the ongoing economic slowdown.
"We don't agree that the ups and downs in China's stock market have triggered wider turbulence in the global market," he said.
During Li's visit to France in June, he had proposed leveraging China's industrial capacity with France's advanced technologies to jointly develop third-party markets. The two countries have also agreed to set up an innovation fund of 250 million euros ($285.4 million) to support small innovative companies with growth potential in China.