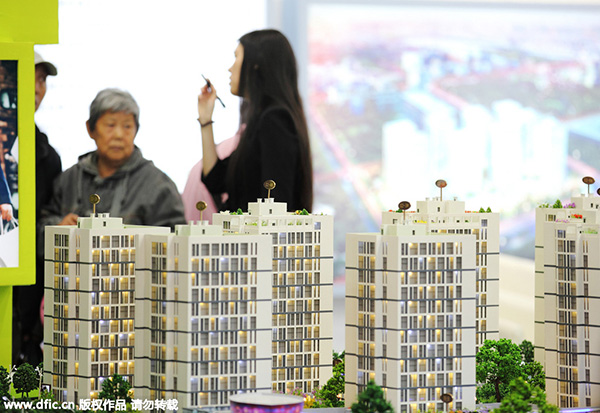 A sales woman introduces an overseas property program to visitors at a spring real estate exhibition held in Beijing, April 17, 2015. [Photo / IC]
Jitters over a surge of money coming from China can be relieved now as investment projects contribute to local economy by generating jobs and tax revenues, said a senior Chinese commerce official.
China's outward direct investment reached a record high at $123 billion in 2014, posting a drastic increase by 14.2 percent from the previous year.
The trend has caused unease in some quarters over how such a huge amount of money would wield its power. Addressing such concerns, Zhang Xiangchen, assistant minister of commerce, provided data at a news briefing on Thursday.
China-backed businesses overseas added more than 80,000 local jobs and paid taxes totaling $19.1 billion to host countries, said Zhang.
Fueled by the government's support, Chinese enterprises have been trying to rebrand themselves from suppliers to global investors, trotting across the world to seek business partnership, set up local branches and bargain over mergers and acquisitions.
However not all of them are welcome. One of the reasons lies in the breach of local laws and regulations.
Zhang said the ministry has acknowledged such complaints and will provide more guidance to Chinese firms about local laws and business culture.
Related: Local companies beat central State-owned firms in ODIs