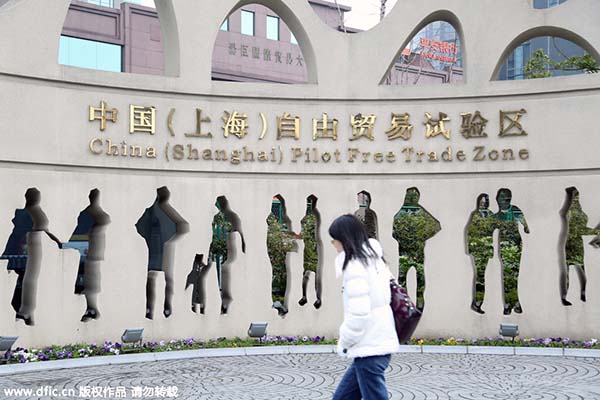 A pedestrian walks past a signboard of the China (Shanghai) Pilot Free Trade Zone in Pudong, Shanghai, China, March 18, 2015. [Photo / IC]
China vows to further open up domestic markets to foreign investors with fewer restrictions as the country's economic reform goes deeper.
"We have largely slashed restrictions to market access to the Chinese market to further lure foreign investment," said Lian Weiliang, deputy head of the National Development and Reform Commission, at a news briefing on Wednesday.
He added that restrictions over the proportion of foreign equity have also been further eased in the foreign-invested projects, especially in the service and manufacturing sectors.
"It's very important to set up a new system for an open economy and create a business environment that is more legalized and more international", he said. "And the country's efforts have paid off."
China's foreign investment has bucked the trend of the cooling global economy to increase 9.2 percent during January-August, among which investment in the service sector surged 20.1 percent from a year earlier.
In March, the country halved the number of industries that used to be off-limits to foreign investors, another big step toward a more favorable business environment amid reforms.
Lian said the country has been gradually shifting to the "negative list" approach to better regulate market access and encourage foreign investment.
The negative list, which identifies sectors and businesses that are off-limits for investment and allows investment in all other sectors, was first announced in September 2013 in the Shanghai Free Trade Zone and then extended to the other three FTZs in Guangdong, Tianjin and Fujian a year later.