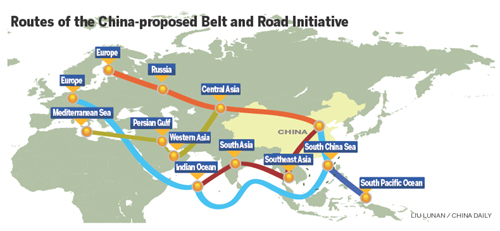 South Pacific finds its place on official TV demonstration map of trade, investment plan
China's efforts to map new directions for its trade and investment and enhance its global standing got a further boost on Monday after the government included the South Pacific in the latest official route demonstration map of the "Belt and Road Initiative".
The map, released by China's national television CCTV, shows the 21st Century Maritime Silk Road starting from Chinese coastal ports and running through the South China Sea to the Indian Ocean and then Europe. The south line of the Maritime Silk Road extends eastward to the South Pacific.
In conjunction with the land route of the Silk Road Economic Belt, the whole picture is completely consistent with the government's action plan, jointly released by the National Development and Reform Commission, the Ministry of Foreign Affairs and the Ministry of Commerce on March 28.
The on-land belt showed three directions: from China to Central Asia and Russia, then to Europe; via Central Asia and Western Asia to the Persian Gulf and Mediterranean Sea; and via Southeast Asia and South Asia to the Indian Ocean.
Zhang Xiaoqiang, vice-chairman of the China Center for International Economic Exchanges, a government think tank, said that "the Belt and Road will become the world's longest, most potential and most active economic corridors", as they link the economic circles of East Asia, Europe and North America and account for about 75 percent of the global economy.
After unveiling the principles, framework and cooperation priorities and mechanisms of the "Belt and Road Initiative", in a bid to enhance regional connectivity, the government is going ahead with the implementation of the plan, and it said more significant construction projects will be released "step by step".
Ou Xiaoli, an official from the State Council's special working group on the initiative, said on Friday at a seminar that every province, autonomous region and municipality will participate in the blueprint.
"The next step is to make specific plans by local governments guided by the general framework, and the whole progress will be pushed by the cooperation among different regions," said Ou.
The key infrastructure construction projects are the "breakthrough point" of the overall plan. Enterprises, other than the government, will push forward the development, he said.