Discoveries offer fresh look at Silk Road history
By Wang Kaihao (China Daily)
Updated: 2015-04-14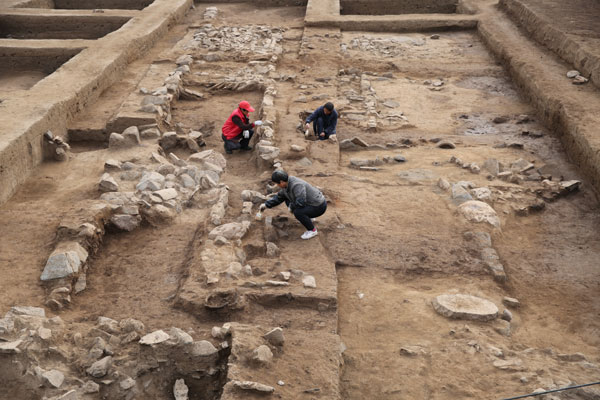 Archeological site at Dazhuangke relic of the Liao Dynasty (916-1125) in Beijing's Yanqing county is one of the Top 10 archeological discoveries in China in 2014. [Photo/China Daily]
Recent archeological discoveries in China may lead to fresh look at Silk Road history. Wang Kaihao reports.
Many archeological discoveries in China last year have shed a new light on the history of the Silk Road and have the potential to trigger the rewriting of textbooks.
Hundreds of years ago, Chinese traders used overland and marine routes to trade silk and porcelain.
In 2014, the discovery of a major porcelain kiln in coastal Zhejiang province's Shangyu city suggested the Maritime Silk Road, which is generally considered to have reached its peak during the Song Dynasty (960-1279), could actually have developed earlier-in the Eastern Han Dynasty (AD 25-220).
Liu Qingzhu, academic director for the Institute of Archeology, affiliated to think-tank Chinese Academy of Social Sciences, is among the experts who believe this was the case.
The Shangyu site is on the 2014 Top 10 archeological discoveries' list that was unveiled by the State Administration of Cultural Heritage last week in Beijing.
"The world has talked about Chinese porcelain for centuries, but where it was born? Discovery of the celadon kiln offers important clues," Liu tells China Daily. "It could be a possible origin for China's mature ceramics industry."
Since 1990, China Cultural Relics News, an arm of the above administration, has organized an annual poll, dubbed by media as "the Academy Awards of Chinese archeology".
Last year, 25 items of archeological importance entered the final round of appraisal after months of selection processes that involved a 21-member panel of experts, including Liu, and public surveys. The Top 10 list was then compiled.