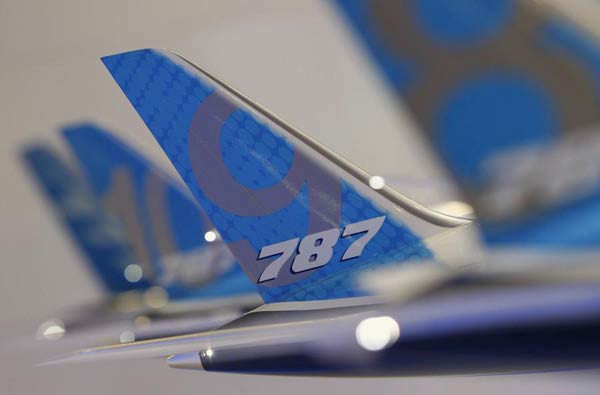 The tailwing of a model Boeing 787 Dreamliner aircraft is pictured at the Boeing booth at the Singapore Airshow in this file photo taken February 11, 2014.[Photo/Agencies]
Hainan Airlines Co Ltd, China's fourth-largest airline in fleet size, said on Wednesday it plans to order 30 Boeing Co 787-9 airplanes, valued at $7.7 billion at list prices.
The order would boost Boeing's 787 program backlog to 855 planes, and represents the biggest order this year for the jet.
The 787 is Boeing's most high-tech plane, with a carbon-composite fuselage and improved fuel efficiency. The 787-9 is a stretched version introduced last year that seats 280 passengers and has a range of 8,300 nautical miles.
Boeing did not immediately respond to a request for comment.