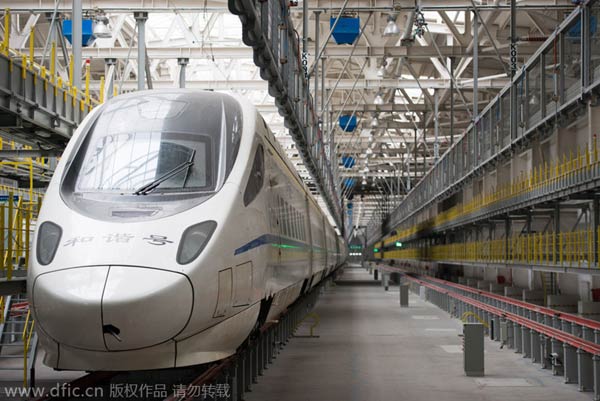 A CRH (China Railway High-Speed) train is seen at a maintenance station for an overall system examination in Urumqi city, northwest China's Xinjiang Uygur autonomous region, June 3, 2014. [Photo/IC]
BEIJING -- China's state assets watchdog has approved a proposed merger of the country's top two bullet train makers, but obstacles remain to be cleared, both companies said on Thursday evening.
China CNR Corp Ltd and China CSR Corp Ltd announced that the State-owned Assets Supervision and Administration Commission has approved in principle their merger into a new company named CRRC Corporation Ltd.
But efforts still need to be made to meet the terms and conditions set in their merger deal, said the announcements, adding that both will publish any progress in the merger in a timely manner.
Shares of CNR and CSR surged by 6.9 percent and 7 percent in Thursday's trading, respectively.
Both are currently not available for comments.
The two companies announced the merger plan in late December, aiming to build a new transnational and globally leading solution provider of high-end railway transport equipment.
The new company will inherit all the assets, liabilities, businesses, staff, contracts, certificates as well as all other rights and obligations of CNR and CSR.
The merger will take place in the form of CNR to be merged into CSR through a stock swap agreement between the two companies-- 1 CNR share for 1.1 CSR shares.
The merger comes 15 years after the two were split in 2000. The then Ministry of Railways that became the China Railway Corporation in 2013, delineated the two companies' major sales domains with the Yellow River as the boundary. It also tried to set a boundary for the two in overseas markets to reduce competition.
The upcoming merger is expected to avoid "in-fighting" during exploration of the global market.
Related stories:
China in talks with 28 countries on high-speed rail by Agencies
China is in talks with 28 countries including the United States, Russia and Brazil about high-speed rail projects, state-backed trainmaker China CNR said on Wednesday.
The company, which said it was one of the participants in the country's high-speed rail push, made the comments during a government-organised visit to one of its factories in Tangshan city in North China.
CNR said its overseas sales amounted to $3 billion last year, up 68.6 percent from the previous year, and that its equipment has been sold to 84 countries and regions.