Featured sectors in the Chinese stock market and undervalued blue-chips are expected to gain popularity, said Securities Daily, as Shanghai-Hong Kong Stock Connect, enabling overseas investors greater access to A shares, is expected to roll out soon.
Preparation for the trade link is in the final stage, said vice chairman of China's securities regulator Yao Gang on Thursday.
The Shanghai-Hong Kong Stock Connect, announced by Premier Li Keqiang in April, will allow international investors, institutional and retail, to trade a net value of as much as 300 billion yuan ($49 billion) Shanghai-listed stocks via Hong Kong Exchange.
Direct access to A shares is currently only limited to mainland investors and qualified foreign institutional investors with authorized quota.
To better prepare getting on the "through train," let's take a look at the top five investment opportunities in A shares, listed by Securities Daily regardless of order.
5. Defense-themed shares
As China continues to upgrade its military equipment, defense-themed shares are gaining popularity in the secondary stock market. The sector's overall market capitalization has increased by 60 percent so far this year according to Securities Daily.
The military enterprises are expected to inject more high-quality assets into the listing entities as reforms push forward.
Huatai Securities overweight defense-themed stocks such as China Spacesat Co Ltd, AVIC Heavy Machinery Co Ltd and China Aerospace Times Electronics Co Ltd.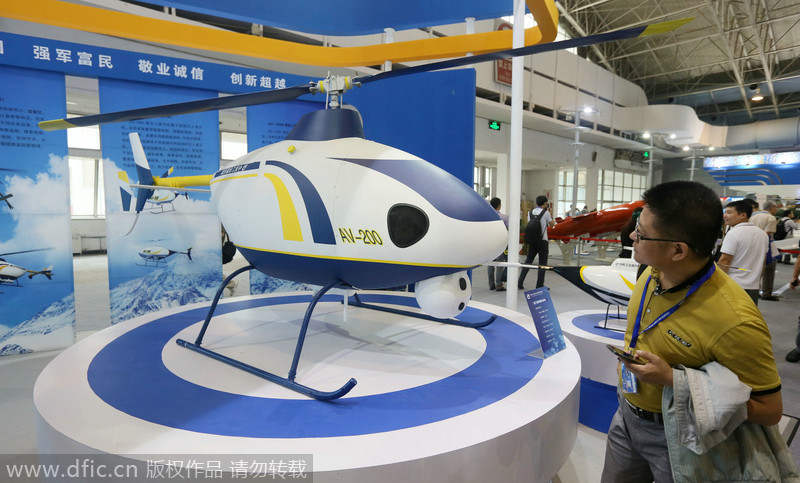 The Fifth Chinese Unmanned Aerial Vehicle Exhibition opened in Beijing, Sept 16, 2014. [Photo/IC]