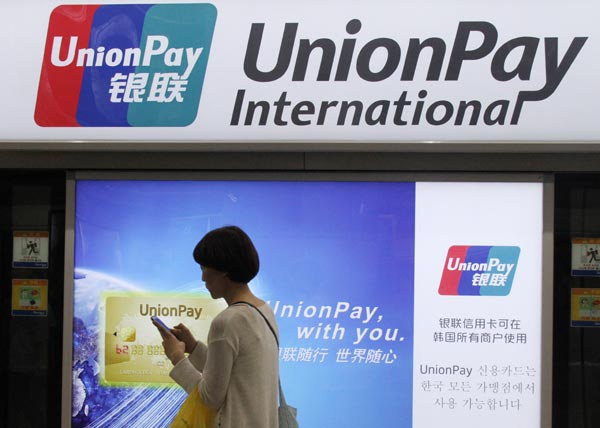 A woman walks past a UnionPay International advertisement in Seoul, South Korea. The Chinese bank card service company plans to expand its business in Russia. [Photo/Xinhua]
Third-largest card issuer continues its expansion of overseas network
Russia's move to reduce its reliance on major Western payment services may benefit China's market players, including
China UnionPay
and its subsidiary UnionPay International.
According to a report broadcast on the Voice of Russia, UnionPay has its eyes on a bigger market share in Russia. The broadcaster quoted an employee who is in charge of UnionPay's card business in that country.
UnionPay International, the UnionPay subsidiary that focuses on overseas business, declined on Wednesday to comment on the report.
In July, UnionPay International reached an agreement with Russia's Vostochny Express Bank, which will issue high-end card products, the UnionPay International official website said.
UnionPay services in Russia started in 2006, four years after the company was established. The card organization has cooperation agreements with more than 10 banks and financial institutions in Russia, according to UnionPay data.
Russia has tens of thousands of point-of-sale terminals and automatic teller machines that can accept UnionPay cards, according to UnionPay data.
Analysts said it is a commercial choice that more people are using UnionPay cards outside China, because the company has developed overseas networks and expanded its facilities to serve cardholders and enable smooth transactions.
Market observers said that it is not surprising that UnionPay cards are more widely used than ever, given the company's expanding global network.
"Like many other financial services, payment services need to be fast, safe and easily accessible. It is not surprising that UnionPay cards are getting increasingly popular outside China, considering the expansion of its networks," said Yang Minji, a Shanghai-based consumer choice analyst with Fulun Consultancy.
Peng Yuan, a 24-year-old engineering student at a university in Moscow, said using UnionPay cards is convenient, and there are often discounts and other benefits for cardholders at airports and duty-free shops.
The official website of UnionPay International said its network has expanded to cover more than 140 countries, and UnionPay cards have been issued in more than 30 countries.
According to the California-based The Nilson Report, UnionPay had the world's third-largest market share of credit and debit transactions (7.7 percent) in 2013, after Visa Inc (60.5 percent) and MasterCard Inc (26.9) percent.