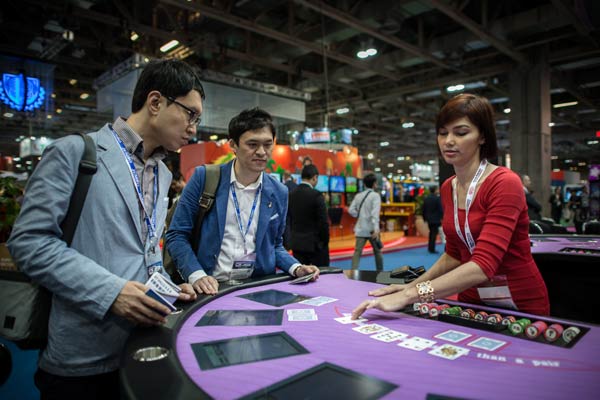 Visitors are given a demonstration at a booth of the Global Gaming Expo Asia in the world's biggest gambling hub of Macao on May 20. Casinos in Macao rely for more than 60 percent of revenue on high rollers brought in by junket operators. AFP
World Cup and drive against corruption keep bettors away
Macao's casino revenue fell for the first time in five years last month as the soccer World Cup diverted some bettors in the world's largest gambling hub.
Total gross gaming revenue dropped 3.7 percent to 27 billion patacas ($3.4 billion) last month, the first decline since June 2009, when it fell 17 percent, according to Macao's Gaming Inspection and Coordination Bureau. This compared with the median estimate of a 4 percent decline from nine analysts surveyed by Bloomberg News. Tuesday. Revenue should rebound in July to 30 billion patacas, 2 percent higher than a year earlier, Ng wrote.
Casinos in Macao, the only place in China where gambling is legal, rely for more than 60 percent of revenue on high rollers brought in by junket operators. Growth in the VIP segment has slowed as gamblers cut spending amid a cooling Chinese economy and a nationwide crackdown on corruption.
High rollers, bettors who wager at least HK$5 million ($645,000) per trip, are shying away from Macao.
"Everybody wants to lie low," Edmund Lee, a partner at PricewaterhouseCoopers in Hong Kong who specializes in the gambling industry, said in an interview. The high-stakes gamblers "don't want to draw unnecessary attention to themselves amid China's anti-corruption campaign," he said.
President Xi Jinping has waged war on corruption since 2012, and his crackdown on lavish spending has hurt luxury sales, from Chow Tai Fook Jewelry Group Ltd to Gucci bags.
The monthlong World Cup soccer tournament that started on June 12 also diverted some casino patrons, Phoebe Tse, a Hong Kong-based analyst at Barclays Plc, wrote in a note published June 23. While weak revenue figures could continue to be a red flag for gaming shares, current valuations are "attractive" for longer-term investors, she added.
Meanwhile, the Macao government's plan to further restrict the use of China UnionPay Co's debit cards at casinos also dented cash flow into the Chinese city.
Macao's Monetary Authority in June ordered jewelry stores and pawnshops operating on casino floors to remove UnionPay card terminals by July 1, SJM Holdings Ltd Chief Executive Officer Ambrose So said.