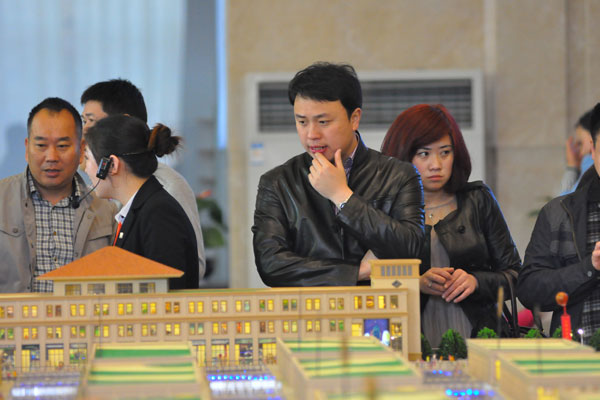 A man inspects a property model display in Rizhao, Shandong province. Property investment during the January-May period rose 14.7 percent year-on-year, down from a 16.4 percent pace in the first four months. Provided to China Daily
China's economy improves in May, but the figures are still 'patchy', analysts say
The economy improved marginally in May, but analysts said the recovery remains patchy, with continued weakness in the property sector representing the largest uncertainty.
Among a slew of key economic data the National Bureau of Statistics released on Friday, industrial output and retail sales offered some comfort for policymakers.
Industrial output rose 8.8 percent year-on-year in May, up from 8.7 percent growth in April.
Retail sales increased 12.5 percent, up from11.9 percent in April.
However, growth of fixed-as-set investment (excluding rural households) slowed to 17.2 percent in the first five months, down from 17.3 percent from January to April.
The slowdown largely reflected a deceleration in property investment. Investment in that sector during the January-May period rose 14.7 percent, down from a 16.4 percent pace in the first four months. Residential property investment slid from 16.6 percent growth in the January-April period to 14.6 percent in the first five months.
Behind the decline in property investment is the slump in housing sales and prices that started early this year.
Real estate investment directly affects about 40 other business sectors in China, from steel and cement to furniture, and is a crucial driver of economic activity.
Tang Jianwei, an economist at Bank of Communications Ltd in Shanghai, noted that overall fixed-asset investment growth didn't plummet because the real estate investment downturn was offset by higher infrastructure investment, which rose 25 percent year-on-year.
That growth rate was 2.2 percentage points higher than in the first four months, according to the NBS.