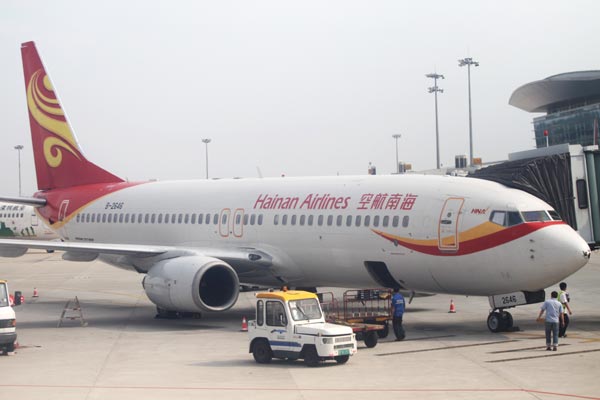 Airport workers load luggage into a Hainan Airlines aircraft at Changsha Huanghua International Airport. Provided to China Daily
New Boeings offer carrier competitive advantages in the North American market with more routes
To expand its network in North America, Hainan Airlines Co Ltd will order more Boeing B787 aircraft in the next several years, a senior executive said.
The fourth-largest carrier in China is already using all of its eight B787 aircraft in North America, where it has three routes. It will add Boston as its fourth destination on June 20.
Two B787 planes that have already been ordered will be delivered in the next year, said Wang Yingming, executive chairman and executive president of HNA Aviation Group Co Ltd, parent company of Hainan Airlines.
"A fleet of 10 Boeing 787 aircraft can support five to six destinations in North America, and our long-term plan is eight destinations there," Wang said.
The carrier might also lease aircraft as it expands, he added, and it will continue increasing its investment in North America to meet "huge demand" there, Wang said.
Chinese civil aviation authorities are encouraging the nation's carriers to develop international networks, industry insiders said, given that many foreign airlines are already active in China.
"Approval to run international routes is easier to obtain now and flight rights into the US aren't a problem," Wang said.