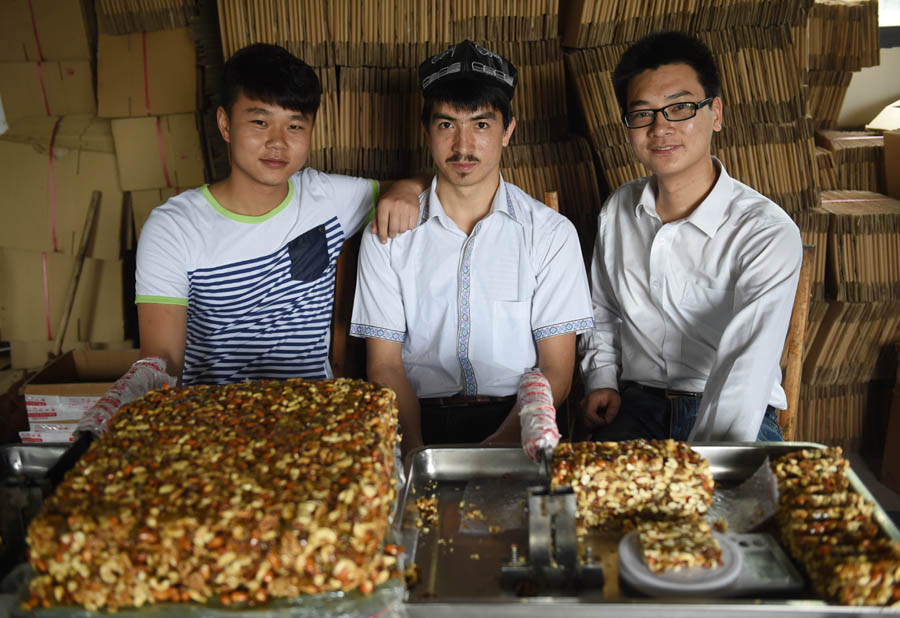 Adili (middle), Jiang Jinya (right) and Jiang Chunyang, left, take a group picture in their workshop in Changsha, Hunan province, May 22, 2014. [Photo/Xinhua]
Adili Maimaititure, a 23-year-old senior student in Changsha University of Science & Technology, started selling Qiegao, also called Xinjiang nut cake, with his university friends online last year.
Adili comes from Kashgar, West China's Xinjiang Uyghur autonomous region, and is an Uyghur. He was born in a family that has a long history of selling Qiegao, which is also called Ma Ren Candy in his hometown. The snack used to be a kind of important food for the Persian merchants.
In 2012, a dispute over the high price of Qiegao in Yueyang, Hunan province, shocked Adili. He decided to show what the real Qiegao was and to justify the status of this delicious food in his hometown. He started an online shop with two other Han-Chinese friends, Jiang Jinya and Jiang Chunyang.
His idea won the support of his family. In order to retain the original favor, his parents even sent him the raw materials from Kashgar. The three of them rented a house in Changsha and turned it into a workshop.
Adili, who is responsible for production, showed that he had the natural talent to make Qiegao and gradually his nut cake began gaining online popularity.
A Chinese cuisine documentary, A bite of China, introduced Qiegao in its second episode this May. Benefiting from the publicity, Adili and his friends saw daily sales exceeding 100,000 yuan ($16,000) on May 3 and May 4. To cope with the demand, they even had to hire more workers.
Besides the online marketing strategy, the three partners also plan to set up a local store. To that end, they have already rented a shop front to fulfill their dream.