Bleak forecast for steel producers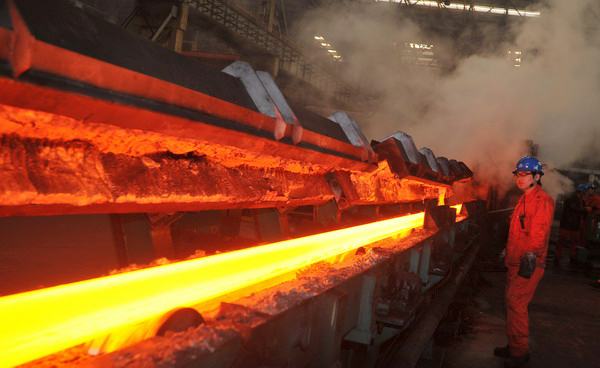 A production line at a steel mill in Dalian, Liaoning province. China's steel industry will continue to face overcapacity problems after seeing a dramatic decline in profits in 2012, the industry association said on Thursday. [Photo / China Daily]
China's steel industry will continue to face overcapacity problems this year, and suffer similar financial pressures to 2012, as the sector struggles against rising raw material prices and weak demand.
The stark industry outlook came from Zhang Changfu, secretary-general of the China Iron and Steel Association, who revealed on Thursday that the country's major steel companies - which account for 80 percent of the country's total output - had an overall profit of 1.58 billion yuan ($254 million) in 2012, a 98.22 percent year-on-year drop on the previous year.
The latest industry figures emerged as four of the country's major listed steelmakers posted preliminary earnings estimates predicting hefty losses for 2012.
Angang Steel Co Ltd said it expected net losses for 2012 to widen from a year earlier, after steel prices fell on subdued global demand, meaning it is expecting losses of 4.16 billion yuan in 2012.
There also were bleak forecasts from Shandong Iron and Steel Co Ltd (3.57 billion yuan loss), Magang (Group) Holding Co Ltd (3.72 billion yuan to 3.95 billion yuan loss), and Beijing Shougang Co Ltd (300 million to 400 million yuan loss).
Speaking at an annual steel industry conference in Beijing, Zhang said: "Steel prices were at a low level for a long time last year because of the economic slowdown.
"But, once steel product prices rise, the imported iron ore prices will soar immediately, which has been the key reason for the drop in profits by China's steelmakers."
Imported iron ore prices increased by $44 a metric ton from $115 a ton in late December to $159 a ton in mid-January, which added 422 yuan to the cost for each ton of steel production.
However, the steel output and imported iron ore quantity have not increased during the same period, which suggests this round of the iron ore price rise was not caused by the demand-supply change, but market manipulation, said Zhang.
"The price increase for imported iron ore is much higher than that for steel products, which means iron ore purchase has become a high-risk 'game' in the industry."
Zhang added that he expects high raw material costs to continue this year and downstream demand for steel products to grow slow ly.
Qu Xiuli, the association's deputy secretary-general, said she expected most steel companies to make efforts to reduce their losses, but it would be impossible for all of them to arrest their losses.
However, she added she was hopeful that favorable policies related to the industry will emerge from the conferences to be held in March.
Association figures show that by the end of last year, the country's top 10 crude steelmakers accounted for 45.94 percent of total output.
Officials have encouraged further consolidation in the industry, to raise that level to 60 percent, but Zhu Jimin, a former chairman of Shougang Group, one of China's major steel companies, said that steel industry integration is a tough test for the government.
According to the iron and steel association, 23 of its major member steel companies have reported annual losses for 2012, 15 more than the previous year, totaling 28.9 billion yuan, about seven times higher than in 2011.
Of the 26 listed steel companies that have posted their preliminary earnings estimates to far, 19 are expecting a loss or a decline in revenue, according to a report on Thursday in the Securities Daily.
Angang Steel said on Thursday it blamed its loss estimate on falling steel product prices last year, due to the combined factors of the global economic slowdown, slower domestic economic growth, sluggish industrial demand, overcapacity and fierce industrial competition.
Officials at Anhui-based Magang added that it had failed to digest the narrowed profit margins between the slump in steel prices and steadily rising raw material costs.
Contact the writers at wang_ying@chinadaily.com.cn