Fast-food giant McDonald's Corp said on Monday that it will seek applications for franchises in southwestern China.
"In a bid to accelerate business development in China, McDonald's will carry out traditional franchise business in China's Sichuan/Chongqing area," the company said.
"Franchise business is key to the success of McDonald's in many markets around the world. It will also be an important factor that helps McDonald's realize fast development in China."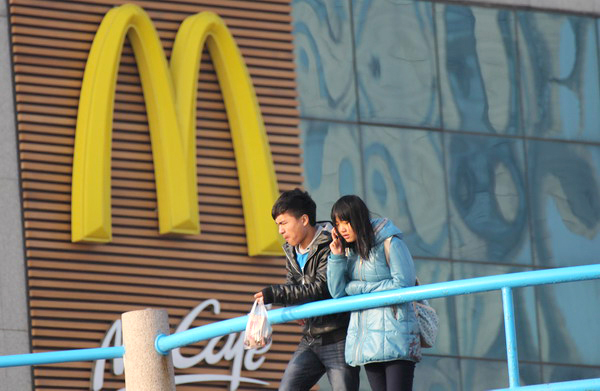 A McDonald's Corp logo is seen in Qingdao. [Huang Jiexian / Asianewsphoto] 
The company said that seven cities in Sichuan and Chong-qing would be open to franchise applications. Currently, only Guangdong and Fujian provinces have been open to such applications.
"I am quite excited and want to have a try," said Zhang Jiao-xia, who runs a small catering business in Deyang, Sichuan.
"But I am still a little concerned that people in my area will be able to accept foreign food," she added.
McDonald's plans to open 700 new restaurants in China by 2013, bringing the total number of its outlets in the nation to 2,000, said company spokeswoman Betty Tian.
As part of the expansion, the company will boost its payroll by 50,000 in China, including 1,000 university graduates as management trainees. Most McDonald's outlets in China are directly operated by the company.
Applicants for franchises should have at least 2 million yuan ($321,000) in cash or assets, and needs to undergo up to 10 months training, according to the company's website.
Ai Yaohui, CEO of Eastfranchise.com, a domestic online platform specializing in the franchising and consulting sector, said the company's move was an " important step to increase its market share, especially as it faces fierce competition from rivals such as KFC".
Fast-food giant KFC's parent company, Yum Brands Inc, is currently the largest foreign restaurant operator in China, with more than 4,000 KFC outlets. It plans to open 500 new restaurants every year, according to Zhu Zongyi, president of Yum Brands China Division.
Ai said that for McDonald's to realize its ambition, the biggest challenge is not capital, but locations.
Franchises account for almost 70 percent of McDonald's global profits, but this model is not so popular in China, according to the 21st Century Business Herald.
Currently in China, individual franchisees purchase 10-year management rights of a McDonald's restaurant for a one-time franchising fee of 2 million yuan. But they also have to pay a service fee - a monthly amount based on the restaurant's sales performance, as well as a monthly advertising fee.
"The biggest problem might be that Chinese investors are more interested in getting a quick profit, rather than building a lifelong career through franchising," Ai said.
xieyu@chinadaily.com.cn
McDonald's in street promo ahead of Olympics
McDonald's recruiting for major expansion
McDonald's to double China workforce
Prices up 1 yuan at McDonald's
McDonald's apologizes for wrongdoings