A slowdown in China's economy is not the only strain on Kentucky Fried Chicken's business in the country, where competition is getting tougher.
KFC parent Yum Brands Inc warned last week that it expected sales at established restaurants in China to fall 4 percent in the fourth quarter, despite an improvement in economic indicators such as consumer confidence and retail sales. Yum shares are down more than 11 percent since the warning.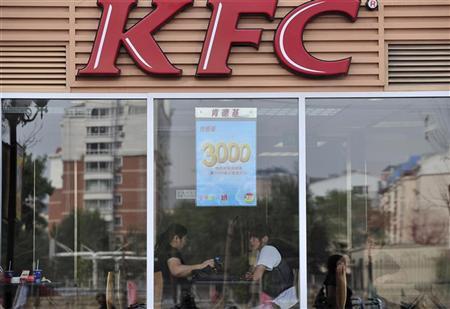 File photo of people dining at a Kentucky Fried Chicken (KFC) outlet in Shenyang, Liaoning province. [Photo/Agencies]
Interviews with diners in Shanghai and Beijing, and a review of comments on Sina Weibo - China's micro-blogging website - show many diners are unhappy with KFC's half a dozen or so price increases in recent years, as well as changes in the local menu.
The new products "are horrible, not as good as before," said Queen Hu, 24, a consultant at accounting firm PwC. She used to eat frequently at KFC when she was in college, but has since cut back to about two to three times a year.
Yum will hold an investor day on Thursday where it is likely to face tough questions about its China business, which contributes more than half of its revenue and operating profit. Investors want to know whether the fourth quarter decline is a one-off, or a sign of real problems in the China market.
Many analysts expect the company to successfully navigate the slowdown, even as some forecast the rough patch could stretch into the middle of next year as Chinese consumers grapple with cooling economic growth.
The US company was a pioneer in China and remains the largest Western restaurant operator there, with roughly 4,800 (mostly KFC) outlets in the country.
Yum shares were trading 0.4 percent higher at $66.17 on Wednesday afternoon. Just before the China performance warning, the stock closed at an all-time high of $74.74 on Nov 29.