Chinese firms venturing overseas stymied by lack of talents
For Wu Jianmin, the lack of human resources is the biggest challenge when it comes to the overseas expansion of a company.
"Despite the economic slowdown in major markets like Europe and the United States, we have gained more orders this year through the effort of building up our own brands," says Wu, president of Wenzhou Lidong Optics Manufacture Co Ltd. "But what is frustrating is that I don't have enough workers at hand for me to finish the orders."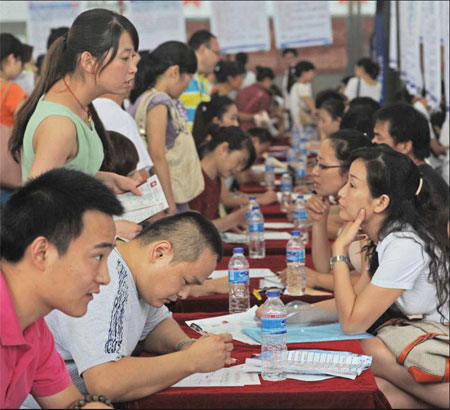 The shortage of workers has presented a challenge for the development of China's small and medium-sized enterprises. [Chen bin / for China Daily] 
His company is expected to gain $30 million (23 million euros) this year, a year-on-year increase of 30 percent. About 90 percent of his products have been exported to the United States and Europe.
But because of a shortage of workers, he has had to employ some temporary workers at higher costs, which diminished his profit margins, says Wu, who is also president of the Wenzhou Spectacles Industrial Association.
The uncoordinated creation of job opportunities with the supply of workers has already presented a tough challenge for the development of small and medium-sized enterprises in China.
According to figures released by the Ministry of Human Resources and Social Security, China's urban registered unemployment rate stood at 4.1 percent in the first quarter of this year.
There stands to be a huge gap between employment supply and demand, since China will need 25 million new jobs this year but the market has only offered an average of 12 million new job opportunities annually over past few years.
However, what confronts the SMEs more, especially when they venture overseas, is the lack of skilled workers, say analysts.
"The talent shortage and general preference for being employed by big companies have made it difficult for SMEs to find the right candidates for key managerial positions," says Xiao Qiang, director of the China Small and Medium Business Research Institute. "In overseas markets the problem is even more acute due to cultural differences."
Liu Song, president of Chongqing Liuyishou Hotpot Co Ltd, says a shortage of talent derails overseas expansion plans of many SMEs like his.
Founded in 2000, the company has more than 400 chain stores and franchised outlets on the Chinese mainland.
The company has set up overseas outlets in Singapore, the US, Canada and Dubai since 2010. But the Dubai restaurant nearly went bankrupt because of a lack of qualified workers.
"The Dubai branch attracted a lot of customers initially, but because we didn't have enough waiters and cooks, the dishes could not be served in time, which was a huge blow to our brand recognition there," says Liu.
Unable to find enough suitable applicants with a good understanding of Chinese and culture in Dubai, he has had to select employees from the group's headquarters in Southwest China's Chongqing municipality to send to the emirate, and then train them in English there.
"It is very time-consuming and returns on investment are not satisfactory," says Liu.
And as the company looks to set up more restaurants overseas, the problem of talent shortage seems to be getting worse.
Xiao say more support for SMEs to tackle the shortage of skilled labor is urgently needed.
"SMEs account for more than 75 percent of the nation's employment, and they have become an emerging force in the expansion of Chinese business overseas," says Xiao. "Lowering taxation is one of the most effective measures to reduce the burden on SMEs."
Xiao suggests that joint training programs by the Chinese government and enterprises would also help ease the shortage.
huhaiyan@chinadaily.com.cn