The merger of China's two biggest online video companies has been finalized after shareholder meetings on Monday approved the deal, which will create an industry leader with more than one-third of the market.
Youku.com Inc, the country's top online video provider, has acquired its main rival Tudou Holdings Ltd in a stock-for-stock transaction, after getting approval from the US Securities and Exchange Commission and the companies' shareholders.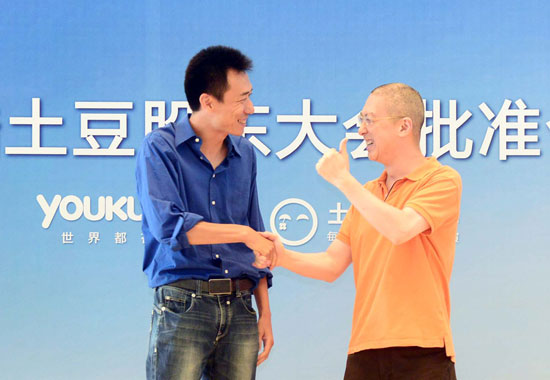 Gary Wang (left), CEO of Tudou Holdings Ltd, and Victor Koo, CEO of Youku.com Inc, at a shareholders meeting in Hong Kong on Aug 20, 2012. [Photo / China Daily]
While the merger can largely bring down costs, it remains to be seen how far the newly merged company — Youku Tudou Inc — can go amid cutthroat competition in the online video market, analysts said.
"The two video websites will go in different directions by having different brand positioning, self-produced video content, and Web styles," said Victor Koo, Youku Tudou Inc's chairman and chief executive officer, adding that other departments of the companies, such as public relations and technology, will be combined.
Youku had 20.9 percent of the market, in terms of total sales, among all online video companies in the first quarter of the year, according to Analysys International. Tudou ranked second with 11.5 percent, closely followed by Sohu.com Inc's 10.9 percent.
Liu Dele, the company's president, said the merger will bring down costs in areas such as copyrights, bandwidth and server purchases, and at the same time, increase competitiveness once the companies' resources are shared.
Copyright purchase prices have gone down 50 percent, compared with last year when fierce competition pushed the prices to unreasonably high levels, according to industry insiders.
"The faster we achieve synergies, the quicker we can break even," Liu said.
In the second quarter, Youku posted a net loss of 62.8 million yuan ($9.9 million), while Tudou registered losses of 154.7 million yuan due to rising costs for Internet bandwidth and content.
Although the newly created company will become the absolute industry leader, it is still not known whether the merger will make the new company stronger than the combination of its parts, said Hong Bo, an IT analyst who follows the industry.
"The companies have quite different characteristics, and there will certainly be difficulties when trying to manage a bigger team, in terms of human resources, marketing, and daily management," he said.
Qiu Lin, an Internet stock analyst at Guosen Securities in Hong Kong, echoed that view.
He said it will be interesting to see how the new company can differentiate itself from Sohu, Tencent Holdings Ltd and Baidu Inc, which are Internet veterans with large user bases, technology and capital.
While mergers usually lead to staff cuts, the newly created company said it has no plans to lay off any of its 2,000 employees, said Yu Zhou, its senior vice-president.
Yu added that only one member of the original management teams of Youku and Tudou had left. Evelyn Wang, Tudou's former chief operations officer, left the company last month due to personal reasons.
Contact the writer at chenlimin@chinadaily.com.cn
Related news about Youku.com Inc
Youku looks inward for growth in original media
Youku and Tudou suing each other
DreamWorks, Youku in 'Panda' deal
Related news about Tudou Holdings Ltd
Tudou reports Q2 loss on rising costs
LeTV, Tudou to set up JV to buy movies, soap operas
Sina increases Tudou stake to 9% for $35.2m