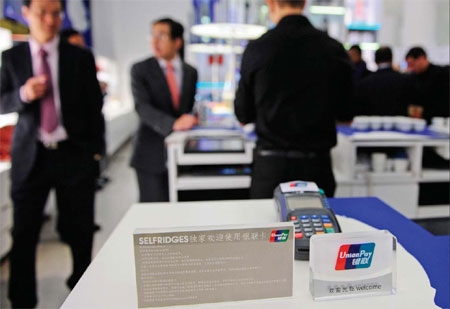 A sign promotes the use of China UnionPay cards at Selfridges department store in London. [Zhang Chunyan / China Daily]
China UnionPay cards spread their wings in Europe
For more than a century The Ritz London, the first five-star hotel in the British capital, has been a benchmark by which other hotels have been measured.
Six months ago it also became the first hotel in Britain to introduce China UnionPay terminals and accept its credit and debit cards.
Late last month, The Ritz London launched a special program of bespoke London shopping and luxury accommodation, available exclusively to China UnionPay card holders.
The program includes a personal butler to arrange a shopping itinerary and advise well-known shops in London that accept UnionPay cards. It also includes an overnight stay in a sumptuous suite and a four-course dinner.
The number of guests from the Chinese mainland has trebled since the China UnionPay terminal was introduced, Stephen Boxall, managing director at The Ritz London, says.
"Becoming the first hotel to offer this payment method to guests traveling to England inevitably resulted in a phenomenal growth in the number of guests staying with us from China, as well as their spend whilst in-house."
The Ritz London is the latest example of China UnionPay's fast development since it launched its European business in 2005.
The only Chinese bank card scheme to operate as Visa cards and MasterCards has gained widespread acceptance in Europe, including Belgium, France, Germany, Greece, Hungary, Poland, Portugal, Russia, Spain, Switzerland and Turkey.
"To date, UnionPay cards can be used in 36 countries and regions in Europe," says Yang Shengliang, an official with China UnionPay's Paris representative office.
France and Italy are two of the most popular travel and shopping destinations in Europe for Chinese.
In the two countries, more than half of the ATMs accept China UnionPay cards, and well-known brands accept the card in their shops in tourist destinations such as Cannes, Florence, Milan, Nice, Paris, Rome and Venice, Yang says.
Yang adds that merchants in France and Italy are noticing a rise in sales to Chinese tourists, boosted by the installation of the UnionPay application in their terminals as fewer Chinese clients carry a lot of cash on them for security reasons, and UnionPay card is becoming the favorite payment tool of Chinese clients.
Apart from that, by using the China UnionPay card, cardholders do not pay currency exchange fees, which encourages them to spend, Yang says.
In the celebrated Les Galeries Lafayette in Paris, Chinese shoppers are everywhere to be seen. One Mandarin-speaking saleswoman surnamed Li says she works with dozens of Chinese customers each day during the tourist season. "Most of them use China UnionPay cards."
Lin Danxuan, 27, a Chinese shopper from Yunnan province, bought three luxury handbags and cosmetics by swiping her UnionPay cards.
"Our tour guide has said there is no transaction fee or currency conversion fee on purchases with UnionPay cards, so why not use it?"
A shop assistant in Les Galeries Lafayette says: "As tourists, many people are watching what they're spending already; having to worry about card fees will make you more reluctant to spend in any particular place."
In Britain, upmarket stores such as Harrods, Selfridges and some luxury retail shops in London accept the China UnionPay card. Selfridges became the first to accept the card for payments in June 2010. Terminals accepting the Chinese payment option were also introduced in Harrods last year.
According to Harrods' figures, Chinese shoppers spent an average of more than 3,500 pounds ($5,550, 4,200 euros) when they visited the store, demonstrating a 40 percent year-on-year rise in spending in the first quarter of 2011.
China UnionPay's remarkable growth also focuses on online payments. Recently, China UnionPay and WorldPay, the global leader in payment processing, announced a partnership under which WorldPay will become the biggest acquirer outside China for e-commerce UnionPay transactions.
Under the agreement WorldPay will become the first UnionPay online payment acquirer in the US and most of Europe, enabling merchants to sell directly to consumers in China, as well as UnionPay card holders outside China.
The main reason for China UnionPay's quick expansion is the Chinese market. More and more Chinese people are traveling, studying and doing business in Europe, reflecting China's booming economy. European merchants are convinced that the number of Chinese in Europe will only keep increasing, as will their spending.
As China's middle class expands, European merchants want to tap into their enormous spending power, which has grown exponentially in the past few years.
About 3 million Chinese visited Europe in 2010, and the European luxury goods sector has cashed in on that. Many other sectors, such as department stores, perfume shops, hospitality and transport have also been raking in the cash as a result of the Chinese influx.
In August the Chinese Academy of Social Sciences issued its annual report on the country's urban development and, according to estimates, half of the country's city dwellers will be part of the middle class by 2023.
Based on data from 2000 to 2009, researchers calculated that 37 percent of city dwellers were part of the middle class in 2010. That percentage is expected to surpass 45 percent in 2019 and exceed 52 percent in 2025.
In addition to this huge increase in spending power, Chinese people have become more adventurous. Ten years ago only 12 million of them went on trips overseas; the government estimates that this number reached 64 million last year and will grow 11 percent year-on-year.
By 2020, the World Tourism Organization estimates, 100 million Chinese will make foreign trips each year. Surveys show that Europe is by far the most popular destination when Chinese talk of where they would like to go on holiday.
The rising volume is remaking European tourism, many of whose most popular attractions are already struggling to cope with the world's holidaying hordes.
The expansion of UnionPay in Europe also epitomizes bilateral trade as well as education and culture cooperation between China and Europe.
Trade between China and the European Union has grown rapidly in recent years, the EU now being China's biggest trading partner. China is the EU's second trading partner behind the US and the EU's biggest source of imports by far.
Chinese students form one of the largest foreign groups traveling to Europe to undertake higher education.
For Chinese people, the China UnionPay card is an attractive payment option when they are abroad because there is no transaction fee or currency exchange fee, making it cheaper than other payment methods.
The market researcher ACNielsen reckons that UnionPay enjoys close to 100 percent recognition in Chinese households which far outstrips the recognition of any other bank card brand in China.
"China UnionPay is one of our important partners for the Chinese market," says Joyce Tai, director of Asia Relations at Mandarin Oriental London. Terminals in London and Paris already accept the card, and that will soon be the case in Barcelona, Geneva, Munich and Prague.
China UnionPay, also known as UnionPay or by its abbreviation, CUP, is the only domestic bank card organization in the People's Republic of China. Founded in March 2002, it is an association of China's banking card industry, operating under the approval of the central bank.
China UnionPay's headquarters are in Shanghai, and it has about 400 domestic and overseas associate members.
According to China UnionPay's website, UnionPay cards are accepted in 117 countries and regions outside China. Sixty-five institutions in 17 overseas countries and regions have issued UnionPay cards locally, with more than 10 million cards being issued in all.
However, competition is fierce. Visa and Intel Corporation announced a strategic agreement at the Mobile World Congress in Barcelona recently.
The partnership aims to develop mobile commerce solutions tailored to consumers in developed and developing countries.
zhangchunyan@chinadaily.com.cn