Video game arcades race ahead
Updated: 2011-09-26 09:09
By Gao Yuan (China Daily)
| | | | | | | | | | | |
| --- | --- | --- | --- | --- | --- | --- | --- | --- | --- | --- |
|   | | Comments() | | Print | | Mail | | Large Medium  Small | 分享按钮 | 0 |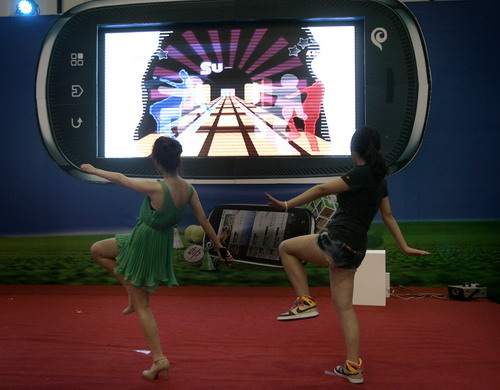 Two women are dancing as part of a video game in front of a big electronic screen on the wall of an arcade in Nanjing, the capital of East China's Jiangsu province. The number of video game players has increased year-by-year in the country, although the central government banned the approval of new video game arcades from expanding at the turn of the century. Indications are that the policy is being relaxed. [Photo/China Daily]
Numbers soar as tough policies are relaxed by the authorities
BEIJING - There were fireworks, young blonde women in bikinis and cheers as 16-year-old Li Xiao beat six-times world champion Valentino Rossi in the final loop of the Moto Grand Prix tournament in a time of 2 minutes 4.75 seconds on his Yamaha YZR-M1 racing motorcycle.
Watching a repeat on an extra-large screen, it was certainly a brilliant spectacle except it wasn't for real. It all took place in a virtual world created by computer software.
Li loves motorcycling, but he is far from being a newly crowned world champion. In the real world he is a high school student who enjoys his hobby at one of the largest video game arcades in downtown Beijing. It takes up almost the entire floor of a busy shopping mall and consists of up to 100 different types of large game machines, and - of course - a fancy moto-racing simulator.
The development of the nation's video game arcades is in the fast lane too, after more than 10 years of stagnancy.
"The business is fairly good and our daily turnover can be as much as 60,000 to 70,000 yuan ($9,375 to $10,938) on weekends," said a duty manager with the family name Shen at a video game arcade in Chaoyang district. She did not want her full name to appear in a newspaper.
Shen had good reason to remain largely anonymous. As recently as last year, many of the small and medium-sized video game arcades in Beijing were not registered, she said.
In June 2000, the Chinese government banned the approval of new video game arcades and forbade existing arcades from expanding or getting new games in a bid to tackle what it called "public security issues", such as gambling and fire risks.
That's when the Internet-based games entrepreneurs saw a window of opportunity to dominate China's electronic-gaming industry as the number of video game arcades began to decrease. Over the past 10 years, revenues from the country's online video game industry have risen from 310 million yuan in 2001 to 8.76 billion yuan in the second quarter of this year, data from Analysys International showed.
"I need some kind of entertainment to relax other than online games," said Nan Zhigang, a middle-aged security guard, at an arcade in Xidan, one of the busiest shopping streets in downtown Beijing. Nan and his friends visit arcades every other week, spending less than 200 yuan each.
Online games cost much more than their arcade rivals because the former requires users to buy extra "powers" for their virtual characters in order to advance.
There are indications the government may loosen policies on video game arcades. The Beijing municipal government ended approval bans on public video game arcades earlier this year, resulting in the number skyrocketing from last year's 98 to 838 in 2011, according to a Xinhua News Agency report.
However, it is hard to estimate the market scale of video games because little research has been undertaken into the industry, said Martin Liu, manager of amunion.com, a Guangzhou-based video game facility information website.
"On average, it costs about 200,000 yuan to cover the monthly expenses for an 800-square-meter arcade," he said. The website suggests video game arcades would profit from opening in busy areas, such as large shopping malls and railway stations.
For Li, the virtual moto champion, the tournament is coming to an end along with the summer vacation. But he said he would like to spend some time on moto-racing simulators when his school workload is not too heavy.
"I don't have a motorcycle and, even if I did, it would not be possible to throttle it to more than 300 kilometers an hour," he said.