Citibank China steps out to take a journey to the west
Updated: 2011-09-24 07:51
By Wang Xiaotian (China Daily)
| | | | | | | | | | | |
| --- | --- | --- | --- | --- | --- | --- | --- | --- | --- | --- |
|   | | Comments() | | Print | | Mail | | Large Medium  Small | 分享按钮 | 0 |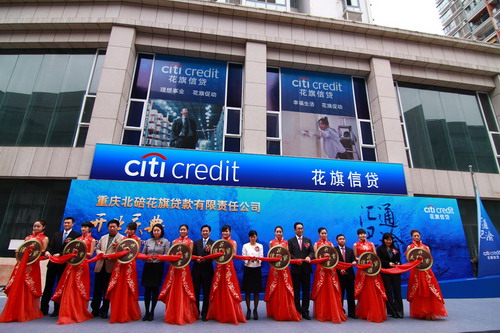 Citibank (China) Co Ltd opened a new lending company in Chongqing on Friday. [Photo / China Daily]
CHONGQING - Citibank (China) Co Ltd, a division of the US financial services giant Citigroup Inc, inaugurated a new lending company in Chongqing on Sept 23, as international banking giants dig deeper into the Chinese financial market.
Called Chongqing Beibei Citi Lending Co Ltd (Citi Credit), the new company is located in the Beibei district of Chongqing, a major economic hub in western China. With registered capital of $6 million, it is Citi China's fourth lending company in China and the first in the country's western region.
With a population of 720,000, Beibei is a district in northern Chongqing that is adjacent to rural areas around the city.
In 2008, Citi became the first international bank to introduce the lending company model to China.
In contrast to village banks, lending companies in China do not take deposits while lending to individual customers.
Andrew Au, CEO of Citi China, said the company will stick to its lending-company strategy instead of opening village banks, as some foreign counterparts have already done while exploring the market in rural China.
The strategy of the China Banking Regulatory Commission (CBRC) has been to establish 1,294 rural financial institutions across the country between 2009 and 2011.
At present, village banks account for almost 90 percent of the financial institutions already established.
Au said access to credit is the most pressing financial need for individuals and small businesses in many parts of China underserved by financial institutions. Citi has already built up a sound deposit and liquidity base in the major cities and coastal regions.
"We don't need to absorb deposits in underdeveloped areas at present," said Au, adding that financial services for deposits in those areas are already mature.
Since 2006, when the CBRC published guidelines to encourage banks to set up financial institutions in underdeveloped areas, international banking giants, such as HSBC Bank Plc and Standard Chartered Plc, have sought to extend their footholds in lower-level cities and towns in the world's most populous country.
"The three lending companies we have launched to date have proved highly successful, and we are delighted to be expanding our commitment to those living in and around smaller towns in China."
In addition to Beibei, Citi China currently has three lending companies. The new venture will house 10 employers, and will offer both secured and unsecured loans, said Citi. It will target clients including individual borrowers, the self-employed and microenterprises.
Ye Yunyan, a banking analyst at China Galaxy Securities Co Ltd, said the most important factor for financial institutions in rural areas lies in risk control.
"Foreign banks could fully apply their experience in lending to small-sized enterprises to the rural market. And such small-scale financial institutions will not constitute any financial burden for them," said Guo Tianyong, director of the banking industry research center at the Central University of Finance and Economics in Beijing.