Chinese merchants rush into Russia
Updated: 2011-09-05 09:34
By Wang Xing (China Daily)
| | | | | | | | | | | |
| --- | --- | --- | --- | --- | --- | --- | --- | --- | --- | --- |
|   | | Comments() | | Print | | Mail | | Large Medium  Small | 分享按钮 | 0 |
The Sino-Russian trade relationship is about to become more profitable
MOSCOW/ST PETERSBURG - Ding Yanna has been involved in Sino-Russia trade for more than 19 years. Since arriving in Russia as a student in 1992, she has sold fur coats, been a construction contractor and is now opening a restaurant in St Petersburg.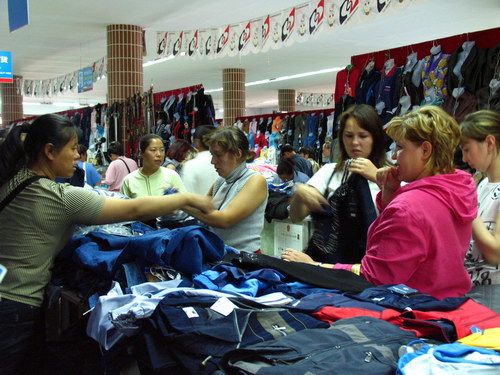 Russian customers choose clothes at a market in Manzhouli, Inner Mongolia autonomous region. China and Russia have pledged to increase bilateral trade to a value of $200 billion a year by 2020, up from $55.4 billion in 2010. [Photo/China Daily]
Unlike many of her Chinese peers, Ding spends most of her time with Russian friends and only conducts business in accordance with local laws and regulations.
Although it has brought a lot of extra costs, such as the payment of taxes and the cost of hiring lawyers and accountants, this approach has allowed her business to survive and thrive.
"If you want to do business here over a long period, doing it legally is of the utmost importance," said Ding, who also has a business in Moscow. She said she is planning to establish a school to provide basic business knowledge to Chinese entrepreneurs working in Russia.
Illegal Chinese business activity in Russia is one of the most sensitive issues facing the future of Sino-Russian trade. In 2009, around 150 Chinese businessmen and a large amount of their goods were detained by Russia's Federal Migration Service in raids at the Cherkizovsky Market, in the east of Moscow. The raids and subsequent detentions quickly escalated into a diplomatic spat, with Chinese officials demanding that the Russian government should protect the interests of Chinese businesspeople in the country. China also sent a delegation to Moscow to conduct negotiations on the issue.
Three years later, many of the merchants who stayed in Russia have relocated to a different market in a southeastern corner of the city. Officially it's called the Moscow Trade Center, but is better known to locals as Lyublino.
Although many of the Chinese dealers are still complaining about the Cherkizovsky raids, during which contraband goods worth about $2 billion were seized, most of them are getting used to the new place.
"I like the new market, it is much cleaner and better regulated compared with Cherkizovsky," said Li Xue, who came to Russia in 2000 and owns a shoe store at Lyublino. She said business has improved since she moved from Cherkizovsky three years ago.
According to official figures, about half of Russia's trade is now conducted with other European countries.
Its trade with China, meanwhile, accounts for about 10 percent of its total trade. Earlier this year, China and Russia pledged to increase bilateral trade to a value of $200 billion a year by 2020, up from $55.4 billion in 2010. However, a lot of the trade volume is conducted through energy sales.
Cai Guiru, chairperson of the Chinese Chamber of Commerce in Russia, said in an article earlier this year that the biggest obstacle for Sino-Russia trade is "Gray Customs Clearance", in which some government-connected "clearance" companies have been pushing imported goods into the Russian market at a tax rate much lower than the official level.
The Russian authorities have long criticized the low level of business education of Chinese traders and workers in their country, noting that Chinese commodities traded to Russia often go through the gray market rather than the proper channels.
"China and Russia need real international trade instead of covert transactions such as street vendors, illegal private banks, and urban marketplaces," said Cai. He added that Russia needs licit Chinese commodities and welcomes entrepreneurs who will run their businesses legally.
Cai said that if long-standing illegal business practices are allowed to continue, Sino-Russian trade will remain at a low level.
According to official figures, there are between 200,000 and 400,000 Chinese living in Russia. A 2008 study by Aleksander Larin, a researcher at the Institute of the Far East in Moscow, shows that the average Chinese migrant in Russia hails from northern China.
Deng Weining, secretary general of the association of South China dealers at Lyublino, said many Chinese dealers have started to conduct legal business since they moved to the new market. "Russia needs Chinese goods, but it also wants quality Chinese goods," said Deng. He noted that Chinese dealers need to be united to raise the average price of Chinese goods to counter rising costs.
According to Deng, a Chinese T-shirt will often sell for 200 roubles ($7) in an urban marketplace. The same item will fetch more than 400 roubles in a mall or even 4,000 roubles if it's passed off as an exclusive brand in a specialized shop. That affords Chinese dealers a chance to make a much bigger profit if they manage to ascend the value chain, he added.
Ling Ji, minister counselor for economic and commercial affairs at the Chinese embassy to Russia, said the Sino-Russian trade volume totaled around $30 billion in the first five months of this year. "It shows that the Sino-Russian trade relationship has very great ability to restore itself," said Ling.
Meanwhile the Chinese and Russian governments have set a target of raising the volume of trade between the two countries to $100 billion by 2015.
"The US and Canada are not very populous compared with China, but their trade volume exceeds $600 billion. China and Russia share a 4,300-kilometer-long border, so it's really a pity that their trade volume is only $55.45 billion," said Cai.