Russia looks to resources
Updated: 2011-09-05 09:19
By Wang Xing (China Daily)
| | | | | | | | | | | |
| --- | --- | --- | --- | --- | --- | --- | --- | --- | --- | --- |
|   | | Comments() | | Print | | Mail | | Large Medium  Small | 分享按钮 | 0 |
Northern neighbor is hoping to become a major supplier of energy
BEIJING - The Russian energy conglomerate En+ Group said it plans to actively expand its business with its Chinese partners through new projects in Eastern Siberia, and is hoping to become one of the biggest suppliers of energy to China.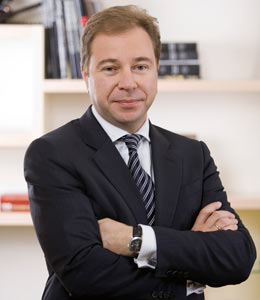 Artem Volynets, CEO of En+ Group. [Photo/China Daily]
In an exclusive interview with China Daily, Artem Volynets, CEO of En+ Group, said Russia has the potential to become a valued supplier of commodities to China, the world's biggest energy consumer.
"Currently the key suppliers of resources to China are Australia, Brazil and South Africa," said Volynets. "We believe that Eastern Siberia has the potential to become a major, reliable supplier of commodities to the rapidly growing Asian markets and especially to China."
In June, En+ Group's subsidiary EuroSibEnergo signed a framework agreement with China Yangtze Power Co Ltd that provides for joint investment in a number of power plant construction projects in Eastern Siberia. The Russian company also recently signed a $5 billion agreement with China Export-Import Bank to develop mining and power projects in Eastern Siberia.
"Siberian resources are the closest to China and that is obviously our key advantage," said Volynets, adding that the company plans to build up as much as 10 gigawatts of new power capacity in Eastern Siberia, mostly hydro, during the next decade.
Compared with delivering commodities to China from distant countries such as Brazil, South Africa and Australia, which often takes between 14 and 35 days, it only takes one day to deliver goods by rail from Eastern Siberia through Mongolia, according to Volynets.
He also said that carbon-free energy from Siberian hydropower plants can provide a substitute for the "dirty" energy from the coal-fired plants in use in China at present.
China's rapid economic growth during the past decade saw it overtake the United States to become the world's biggest energy consumer last year, accounting for 20.3 percent of global demand, according to a report by the oil company BP PLC. The report also said that China is by far the world's largest consumer of coal, accounting for 48 percent for global usage. China's consumption rose by 11.2 per cent last year, according to the report.
Analysts expect China to continue both its rapid growth and the process of urbanization, because more than 250 million people from rural areas are expected to move into cities in the next few decades.
The value of trade between China and Russia rose to $55.4 billion in 2010 from $10.3 billion in 2001, according to figures from China's Ministry of Commerce. However, about half of Russia's trade at present is conducted with other European countries. Trade with China accounts for about 10 percent of Russia's total, and the two countries have pledged to increase bilateral trade to an annual value of $200 billion by 2020.
In July, the Russian energy giant Gazprom OAO and China National Petroleum Corp were unable to agree on a price for gas deliveries from Russia to China. An agreement would see Gazprom deliver as much as 68 billion cubic meters of gas over a period of 30 years, and the company has said that the two sides are still working to finalize a deal.
Volynets said China has become the global center of energy consumption. He said it is a "strategic move" for En+ Group to focus on expanding into Asia by developing new projects in the power and metals industries, in addition to coal, uranium, gold and iron ore mining and others.