The financial crisis has also had its effect on the industry, with Emirates seeing profits fall 72 percent last year. However, Tim Clark, the company president, downplayed the impact of Dubai's economic problems on the airline. "The effects on Emirates have been marginal. We continue to fill our planes and we are continuing business as normal," he recently told the London-based BBC Radio.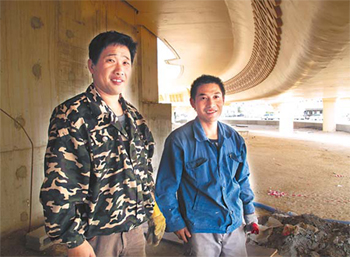 Ni Shuhua, right, from Jiangsu province, takes a break with a colleague while working on a construction site in Dubai. [Photo/Zhang Haizhou]
But Qiyuan could feel the chill in the cabin. She said the airline would recruit about 20 new staff in China each month but has not recruited anyone for the past 10 or 11 months. This means she and her colleagues had to work longer. "We normally work 80 hours per month, including fly time, but I worked 124 hours last month," she complained.
She planned to find a more stable job back in her native Beijing. "My husband wanted me to have a calm and ordinary life back in my hometown," said Qiyuan, who studied in Britain for seven years. "I may one day become a kindergarten teacher to teach kids English."
Carpenter Ni also hungered for a family reunion back in his hometown of Nantong, Jiangsu province. The 45-year-old arrived in Dubai in late 2007 on a 24-month contract with Jiangsu Province First Construction Installation.
There are no statistics on how many construction workers are in Dubai, or how many of them are from China. Yet on Sheik Zayed Road, Dubai's main street, a Chinese worker on a subway station project told China Daily he could easily meet "quite a few" of his fellow countrymen walking along the street. "Some of them worked to build the Burj Dubai," he said.
Other In-depth News:


 Earth suspected in 'mini ice age'


Laborers vulnerable to rogue job agencies

Scalpers laugh off the new train ticketing system


Mystery surrounds the fatal shooting in Guizhou


 Disaster response team gets $16 million input


 Bohai bay turns into block of ice


 China in spotlight of global role
It was the vision of Sheikh Mohammed bin Rashid al Maktoum, the ruler of Dubai, to build the city into a floodlit, air-conditioned fantasy world, complete with a skyscrapers, a world-class port, colossal malls and manmade islands, but it was the hands of construction workers who made it a reality.
Ironically, most of the laborers will never experience the luxurious side of life in Dubai. While Qiyuan flies all over the world with Emirates and staying in glamorous hotels, Ni spends his days under the blazing Middle East sun on sprawling building sites.
"I had three days off in 2008 and only two days in 2009," he said, adding that he earns 150 yuan a day for eight hours' work.
Without a decent salary or enough leisure time, Ni said he had no chance to visit most of the city's magnificent landmarks, such as the newly completed Burj Khalifa, the world's tallest building at 828 m. The only reason he has visited the Dubai Mall, dubbed the biggest shopping center in the world, was because he worked there as a fitter. "I've never been since it opened in late 2008," he said.
"Loneliness is the biggest difficulty," said Ni, who speaks no English, and it is a feeling that is shared by many construction workers here. Unlike the tourists and business leaders who flock to the city, few Chinese laborers would say they like living in Dubai.
Money is the main reason most stay and Ni said most of his peers work every day in summer, even though temperatures can reach 50 C. He said he spends 400 yuan on his cigarettes each month. The rest of his salary he sends home to his wife and 21-year-old daughter in Nantong.
"I have earned about 100,000 yuan in the past two years. Few carpenters could imagine that in China, even though they work from early morning until dark every day," he said.
However, Ni still cannot wait to go back to China. "I miss my family too much," he sighed.