Residents of Juhua Island run the risks after cold snap turns Bohai Bay into a giant block of ice. He Na in Huludao and Zhao Ruixue in Laizhou report
China National Offshore Oil Corporation has agreed to send a large tugboat from Xingcheng every 10 days to ferry passengers to and from Juhua Island, while a helicopter will be used in the event of an emergency, said Zhang Zhihui, deputy director of administration for Huludao government, which covers the island.
The sea ice off Liaodong Peninsula, which is to the north of the Bohai Bay, will continue to expand this week but its pace will much slower than recent days, the National Marine Forecasting Station told China Daily.
As of Tuesday, floating chunks of sea ice in Liaodong extended 37 nautical miles (68 km) from the coast, showed statistics from the station and experts predicted it could reach up to 50 by Friday. The average ice thickness will be 10 to 20 cm, and could be up to 35 cm thick in some areas, said the station.
At Huludao Port, east of Bohai Bay, operators say they have managed to keep the facility operating, albeit slowly, in ice about 5 to 15 cm thick.
"With the help of an icebreaker and tugboat the port is running as usual, although the speed of operations is drastically reduced," said Li Lixin, director of marine environment protection for the Huludao Marine and Fishing Bureau.
Work has also been affected at the busy Jizhou Port. Pilots usually take just two or three hours to navigate boats in and out of the port but that has become about eight hours thanks to the frozen conditions, according to a report published on people.com.cn.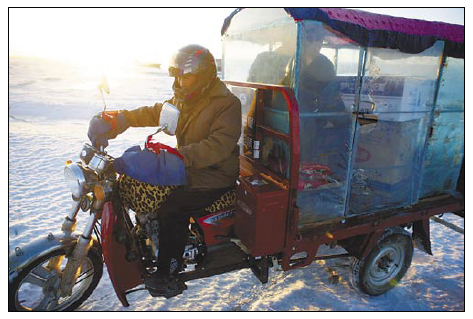 A tricycle rider ferries residents from Juhua Island across the ice to Xingcheng.[Photo/Yang Shizhong] 
As for Juhua Island, the ice is also an annual event in Huludao. "But a huge cold front hit the city almost one month earlier than usual this year, which was followed by more bad weather, which just made things worse," said Li. "This is the most severe freeze in three decades."
The sea ice has also hit aquatic farms along the gulf coast, which is famous for its scallop and sea cucumber. The sudden cold snap has prevented the fresh nutrient-rich water from getting to the produce, while many farms also face a seawater shortage.
"The loss is expected to reach more than 3.2 million yuan," said Fan Derong, vice-president of the Huludao Marine and Fishing Bureau. "To get more accurate statistics, we have sent staff to villages to investigate door to door. The new loss will be updated several days later."
Other In-depth News:


 China in spotlight of global role


 Saving history from property development threat


 Growing costs: Dilemmas, struggles facing China's economy

 100 days countdown to World Expo 2010 in Shanghai


 Stabbing highlights need to protect migrant workers

Jiuzhou Aquatic Farm in Haibin county raises sea cucumbers and about 700,000 turbot, a species of European flatfish. Covering more than 40 hectares, it is considered the largest farm of its kind in Xingcheng.
"We need to change the water everyday but because of the thick ice there is not enough fresh seawater coming through the pipe. So we have only been able to change the water every two or three days, which has caused many fish to become sick," said Men Xueliang, the farm's general manager. "With the water shortage we cannot feed the fish the usual amount.
The more they eat, the more excrement they produce, which contaminates the fish pond."
Without enough nutrition, the usual growth period of the fish could be extended by at least three months, he said. This not only means the company has to pay more for water, electricity power and labor, but also means they will not be ready for the peak period to sell fish.
"The thickest ice in my sea cucumber pond is more than 1 m. Usually our products enter the market at end of March; this year I'm afraid it will be late in April or May. It's hard to estimate our losses but obviously the company will suffer a lot this year," said Men.
More than 600 aquatic farms are scattered along Bohai Bay in Xingcheng and most are small, family-run businesses.
Qu Bo farms sea cucumber over an area of six hectares. He said some of the animals had already died because of a lack of oxygen.
"The ice is too thick. We can not get enough seawater inside the sea cucumber farm, which is a disaster for me," he said. "I have raised sea cucumber for more than five years but it is the first time I have seen such thick ice. I am really worried and I hope the weather will warm up quickly."
Small farms have also resorted to posting advertisements on lampposts throughout the area in an effort to sell their fish and reduce potential losses.
Aquatic farms in Laizhou, a city on the coast of Shandong province, have all suffered major losses, too.
China Daily found many farmers knocking through the ice covering the ponds to try to give their sea cucumbers some fresh air. "Most of my cucumbers died because they didn't have enough oxygen, and more than 1,000 kg of my shellfish froze to death in the sea," said Sun Chungao, who opened his aquatic farm only last year.
Men Xueliang added: "Many aquatic farms are facing problems. We hope the government or banks will consider providing low-interest loans to help carry us through the rough times."
Those living in many fishing communities along the coast of the Bohai Bay are also hoping the ice melts soon so they can return to work.
In Bingjia, which has a population of about 1,900 and is the largest fishing village in Huludao, most households own a boat.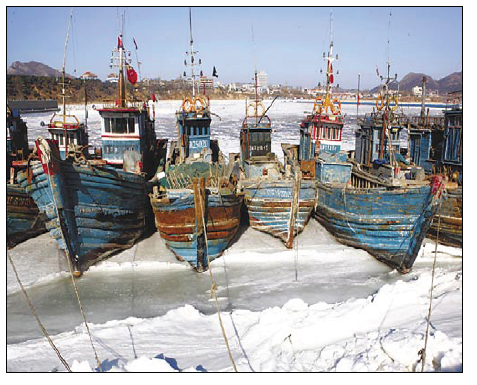 Fishing boats are frozen at the harbor of Huludao in Liaoning province. [Photo/Yang Shizhong] 
"Late December until March is our resting time every winter. Besides repairing our boats and fishing nets, we just play poker or watch TV to kill time," said Ma Zhenbiao, 65, as he sat with his wife, Guan Yuhua, on the couple's kang, a heated brick bed. "This winter is much colder than previous years, though, so we stopped fishing much earlier. If the ice does not melt soon, our resting time will be much longer."
Ma, who has fished all his life, has earned 8,000 yuan last year, which is a little less than in 2008.
Most of the boats in Bingjia returned from sea in time before the small village dock was frozen, but several boats were stranded by the sea ice and are still unable to come back.
"My neighbor has a big boat and often fishes in areas much further than us. He comes back a little later than us every year," said villager Chen Haiyin, 38. "But this year more than 10 km of Bohai Bay quickly froze. He was stranded in the sea for a couple of days. All he could do was hope the ice melted so he could come back but the sea ice just got thicker. Finally, he had no choice but to head for Weihai in Shandong to find a place to dock his boat."
In Laizhou, fisherman Zhao Zhonghua in his late 30s has been surviving on a diet of noodles for more than three weeks. "I haven't been out to the sea for so many days and don't have much money left. I don't want to spend any money on vegetables or meat," he said.
Zhao is one of five fishermen who have stayed with their boats at the city's Haimiao Harbor, together with other 17 boats. Most of the other fishermen who work for Changyi Fleet left for home weeks ago.
"I need to sail and earn some money so my family can have a good Spring Festival," said Qin Linsen, who is in his 40s and is one of those anxiously waiting for the ice to disappear. His colleague Li Bo, who is in his 40s, added: "I have been on the boat for more than 20 days. I miss home."
The men fear the floating ice will damage their boats and cables, although the local authorities have helped fasten cables and cover boats with tires, said a fisherman who declined to give his name.
The ice melted slightly on Jan 23 when the temperature rose and some fishermen attempted to take their boats out to sea. None of them traveled very far as the vessels struggled in the frozen water. Other fishermen stayed on land for fear of damaging their boats.
"I have been fishing in this harbor for more than 10 years and it is the first time I have seen ice this bad," a worried Li Dongzhi told China Daily. "There is much more ice and it also appeared much earlier. My boat has not been anywhere for more than a month - but this is the best time to catch fish."
In nearby Sanshandao Harbor, 60 boats went out to the sea at about 9 am on Jan 23. All returned the next morning.
Lin Gang said he brought back 400 kg of shrimp and fish. Smiling, he explained that, because of the ice, prices of most seafood had risen 40 or even 60 percent at Laizhou market.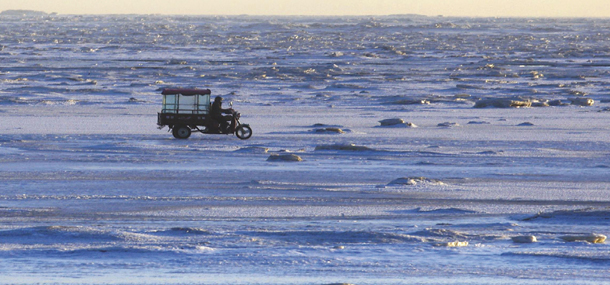 A lone tricycle ride makes the dangerous journey across the frozen waters of Bohai Bay.[Photo/Yang Shizhong] 
Wang Shanshan and Liu Ce contributed to the story