Is there any business that would make more money than real estate in China at a time when the entire nation seems to be fretting over the unbridled growth in house prices?
The answer, to Addy Zhang, founder of developer Innorich International, is to raise pigs.
Innorich, together with a subsidiary of CIIC Group and Weinan municipal government, plans to build the Yellow River International Food Industrial Park where more than 3 million swine will be slaughtered annually and organic pork production will reach 230,000 tons. The total investment in this project will hit $1 billion, with 31 percent coming from enterprises, 19 percent from the local government and the remaining 50 percent from overseas sources.
"The enthusiasm of international investors for this project has exceeded our expectation and now the problem is that we have a limited quota for a bigger pool of money," said Zhang.
William Todd, chief executive officer (CEO) of US-based Worldwide Resources Inc, is one of the international investors who would like to further increase investment as the project grows.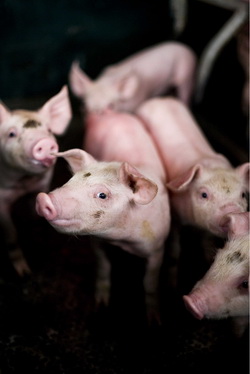 Innorich, together with a subsidiary of CIIC Group and Weinan municipal government, plans to build the Yellow River International Food Industrial Park where organic pork production will reach 230,000 tons annually. [China Daily]
"What is particularly attractive for me is the size of the project and its environment-friendly development mode," said Todd. "Think about it: China is the largest consumer of pork in the world, accounting for 53 percent of the global market share."
Statistics from China Animal Agricultural Association show that the country's pork output in 2008 reached 46.15 million tons, an increase of 7.6 percent year-on-year.
"The fastest growth in meat consumption occurs when people's income is less than $5,000 per year, and China's current figure is around $ 3,000, so we are still on the fast track," said Ma Chuang, vice secretary-general of China Animal Agricultural Association.
The attraction of the pig breeding industry is growing. After some international investors, such as Deutsche Bank, made an investment in the industry in 2008, local entrepreneurs from other industries also jumped on the bandwagon. In February of 2009, Netease CEO Ding Lei announced his plan to expand into the pig raising sector. In June, Fosun chairman Guo Guangchang poured 160 million yuan into Jiangxi Guohong Group, a larges-scale pig raising enterprise in the province.
But are pigs really money-spinners? The answer is probably not a simple "yes" or "no". If not managed properly, pig rearing could be a loss-making business.
According to Ma, difficulties in raising pigs include disease control, price turbulence, food safety and the traceability system.
In fact, many enterprises - rushed into the industry in 2007 when pork price reached a record high - suffered big losses when prices tumbled nearly 50 percent in 2008.
Related readings:


 China becomes world's top meat producer


 China's pork supply, price to remain stable in '10: official


 China's pork, eggs price increases 'normal', no inflation


 Soaring pork price not to trigger inflation in China


 Food safety drive to continue in 2010
But Zhang doesn't care much about the pork price fluctuation because he is focusing his business on providing quality pork for wealthy consumers who are not so sensitive to price changes.
"Because of the emerging rich stratum in Chinese society, there has been a growth in the expectation of safe and organic pork among consumers. However, there hasn't always been a consistency in supply. I would like to target this niche market," said Zhang.
Meanwhile, he is striving to build a complete industry chain. Besides feeding pigs, Zhang will also set up a marsh gas project that could generate 18 million kilowatts of electricity a year. A fertilizer factory will also be set up to nourish organic vegetable and fruits and flowers.
"Pig breeding itself will not be as lucrative as building homes, but we could develop related bio-pharmaceutical products, such as polypeptide-Fe (made from blood and used to clear anti-oxidants from humans, thereby relieving stress), collagen protein and plasma meals. These by-products could be of higher value," Zhang said.