The ambitions of China's diplomacy in 2010 and the challenges the country faces on the global stage. Li Xing and Li Xiaokun report
Ancient Chinese called their homeland the Middle Kingdom, a fact proved by Matteo Ricci when he drew his famous Impossible Black Tulip map in 1602. The Italian Jesuit missionary won special favor from Emperor Wanli of the Ming Dynasty (1368-1644) to live in Beijing and, at the emperor's request, placed China at the center of his map.
A rare example of the 400-year-old work has gone on exhibition at the United States Library of Congress in Washington, but it is the newly released economic growth figures that have once again made the nation the center of attention.
While most countries slowly struggled along the road to recovery following the global financial crisis, China registered the fastest growth worldwide in 2009. Despite concern over the possible crash of China's economy, louder voices hailed the country for overtaking the US as the biggest automobile market, surpassing Germany as the No 1 exporter and potentially replacing Japan as the world's second largest economy.
But even with China riding the crest of a development wave, opportunities and challenges still lie ahead for diplomacy in 2010, agreed leading scholars at a forum hosted by China Daily this month.
"China will encounter enormous international pressure because the post-financial crunch era is becoming more unpredictable," said Chen Fengying, director of world economic studies at China Institutes of Contemporary International Relations.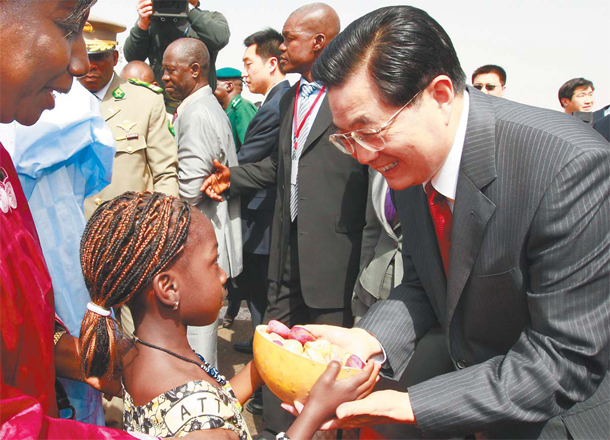 President Hu Jintao receives a traditional welcome at Mali Airport during his trip to Mali, Saudi Arabia, Senegal,Tanzania and Mauritius last February. Ju Peng 
Since the turn of the year, the responsibility for issues such as climate change, nuclear non-proliferation, currency management and Internet supervision has increasingly been laid at China's door. But analysts say those making the allegations are ignoring their own failings in fulfilling pledges on cutting greenhouse gas emissions and nuclear weapons, while many have also broken promises on trade protectionism.
Maintaining stable economic growth and promoting development are the main goals of China's diplomacy in 2010, or rather the "year of crowded multinational summits" as Minister of Foreign Affairs Yang Jiechi dubbed it in an interview published online recently.
Within the next 12 months, the country will be involved in Group of 20 (G20) summits in Canada and South Korea; a meeting of the leaders of the four emerging economies, Brazil, Russia, India and China (BRIC); an informal Asia-Pacific Economic Cooperation summit; and the annual heads of state meeting of the Shanghai Cooperation Conference, just to name a few. High-level conferences are also scheduled to mark the 65th anniversary of the United Nations, in addition to UN climate talks in Mexico late in the year.
Chinese leaders will attend at least 10 summits in 2010, according to Le Yucheng, director-general of the ministry's policy planning department.
The high-profile meetings will all continue to address what Yang termed as "increasingly prominent global issues", such as international financial reform, climate change, nuclear security and non-proliferation, and terrorism. Pressing issues also include energy security, food shortage and public health, he said.
Economic development still tops China's agenda, while the country is poised to "actively participate in international economic and financial cooperation, resolutely oppose protectionism, maintain the momentum of economic recovery and create favorable international conditions for its growth", said Yang.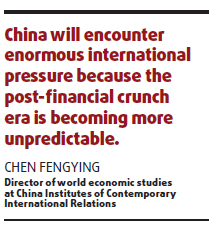 The G20 summits in Canada and South Korea are expected to seek a consensus on ensuring stable global economic recovery and on speeding up reforms in the international financial system. However, China recognizes that "full economic recovery is a slow process with twists and turns," stressed Yang in an article in Qiushi, the monthly magazine of the Central Committee of the Communist Party of China.
Reforms in international systems will move forward against various forces, and could even move backwards, he wrote.
China will no longer be treated favorably at G20 summits, as it was last year, because more demands will be placed on the country, said Pang Zhongying, a professor at Renmin University in Beijing and an expert in American studies. Chen agreed and added that, as the world undergoes transitions in economic structure, China has become the "focal point" of rebalancing global growth, meaning the nation could be blamed for many major problems.
The announcement this month that China had become the world's largest exporter was followed by much criticism for the country's failure to readjust its economic structure and boost domestic consumption. However, experts argued the nation did expand the purchasing power of its rural population last year, while its economic growth benefited neighboring and other developing countries.
China must be vigilant at some Western countries trying to "water down" their burden of the debt, and safeguard interests overseas should be a core issue for the nation's diplomats, added Chen.
Climate change is another hot issue that is of "major concern to China's development", said Chen.
Some 150 million Chinese still live in poverty by UN standards, with many more still working hard to live a decent life with clean water, food safety, improved education and opportunities to travel for leisure.
During a debate hosted by the London-based BBC in Copenhagen, Denmark, Wu Changhua, Greater China director of the Climate Group, recalled joining a forum in Chongqing where local officials asked her for solutions on how to achieve a low-carbon economy. In a later interview with China Daily, she said that although the country still lacks the talents, money, technologies and vision to be able to execute policies for a low-carbon economy, it "can still play a more active role in helping move global climate change negotiations forward".
Goals to cut greenhouse gas emissions are legally binding in China, so there is potential for the nation to engage in international cooperation on the measurement, reporting and verification of its reductions as part of capacity building and increasing effectiveness in law enforcement, Wu added.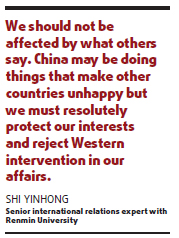 Just two weeks into 2010, Yang completed a tour of seven countries - Kenya, Nigeria, Sierra Leone, Algeria and Morocco in Africa, as well as the Maldives and Saudi Arabia - to discuss the issue of climate change with state leaders. During his talks with Mohamed Nasheed, president of the Maldives, the foreign minister assured that China is willing to continue cooperating with the small island nation in tackling such global issues as climate change and safeguarding the rights of developing countries.
Ministers from BASIC member states - Brazil, South Africa, India and China - also met last weekend to discuss follow-up actions required by the Copenhagen Accord agreed by 193 nations last December.
"However, China should not fall into the trap of making too many commitments," warned Wu Baiyi, director of Latin American studies for the Chinese Academy of Social Sciences (CASS).
In his article published in Qiushi, Yang reiterated the government's stance by saying that the nation would "shoulder international responsibilities in line with China's capabilities and status, but will not bear upon itself the duties that go beyond its ability and stage of development".
As well as the environment, nuclear non-proliferation is also high on Barack Obama's agenda for this year, with the US president set to host a Global Nuclear Security Summit in Washington in April, according to the US Center for Arms Control and Non-proliferation.
Major General Peng Guangqian, deputy secretary-general of China Council for National Security Policy Studies, will attend a forum in Paris next month organized by Global Zero, an international group that promotes "a world without nuclear weapons", in preparation for the US summit. He said that ever since Obama proposed a "nuclear-free world" during a speech in Strasbourg last April, global denuclearization has become a hot issue.
"However, I believe the call for a nuclear-free world is a tactic to get public attention because the nuclear issue is one of the keys to national security worldwide," said Peng.
The West is also becoming increasingly impatient about Iran's nuclear programs, pressing for more sanctions. But Zhang Yesui, China's ambassador to the UN, said this month that Beijing opposes fresh sanctions against Iran to allow for ongoing diplomatic efforts to bridge differences over the country's nuclear programs.
As for denuclearization in the Korean Peninsula, China made a series of efforts last year. Premier Wen Jiabao's visit to the Democratic People's Republic of Korea (DPRK) last October resulted in another breakthrough in pushing the process forward, say analysts.
China has to make some major decisions on the peninsula issue, said Zhang Liangui, an expert on the DPRK with the Central Party School in Beijing. Pyongyang has shown goodwill to the US, Republic of Korea, China and Japan since the end of last year, which shows a willingness "to seek to ink a peace agreement through the Six-Party Talks", he said.
The DPRK's precondition for such an agreement is that the US should establish diplomatic ties with the DPRK with nuclear power, indirectly endorsing its status as a nuclear nation, he said.
"Washington and Seoul have rejected the request," said Zhang. Beijing has yet to make a clear response. "It is really hard for China to balance the complex situation and push forward the Six-Party Talks," he said, adding that Beijing would continue to push for denuclearization in the Korean Peninsula.
On all major international issues, Professor Pang believes bilateral and regional consultations will play more pivotal roles in finding solutions.
"China can accomplish a lot in this year as the country stands at the forefront of the world economy, and as peace and development remains the major international trend," added Wu Baiyi at the CASS.
Yang said China would work to deepen relations with the world's major countries, cement relations with neighboring nations and increase cooperation with developing countries.
During his visit to five African countries this month, the foreign minister hammered out details with nation leaders on implementing the new three-year Sharm el-Sheikh Action Plan, which was adopted last November at the fourth ministerial meeting of the Forum on China-Africa, and pledged further mutual support over "regional and international issues of major concern".
Under the plan, China will increase the size of the China-Africa Development Fund to $3 billion to support the expansion of investment by Chinese businesses. The county will also provide $10 billion of preferential loans to African countries, which will be used mainly to support infrastructure and social development projects.
The free-trade area between China and members of the Association of Southeast Asian Nations (ASEAN), which began on Jan 1, has also given impetus to increased cooperation between China and its neighbors.
A number of hot global issues are centered in Central Asia, such as the war in Afghanistan, which is also on Obama's 2010 to-do list.
China is also making every endeavor to maintain peace and stability in the South China Sea, the government has said. But some countries may again raise disputes, with the US trying to exert more influence in the region, explained Su Hao, an expert in East Asian affairs with the China Foreign Affairs University in Beijing.
However, to fulfill its developmental goals, China must continue to work and improve partnerships with major countries in the world, say analysts.
China and Russia have started a new and more substantial round of cultural exchanges, to expand the base of their political relations. The country is also working in earnest to improve ties with emerging economies, especially Brazil and India.
While the European Union is still mulling over the new framework of its foreign policies, China hopes to broaden the sphere of cooperation with EU nations and improve mutual understanding.
Experts are, however, cautious about Sino-US relations in 2010, even though the Obama administration was the fastest to address its ties with China compared to previous administrations.
The US will cling to the idea of "Pax America", protecting its core interest, and working to restore and maintain its leadership in the world, said Wang Yusheng, a veteran diplomat and world affairs expert.
The recent arms sale to Taiwan approved by the White House is a case in point, international relations experts agreed.
"The US will increase its suspicion of and safeguards against China's further development, even though paradoxically it may become more willing to cooperate with China over security issues," said Major Genernal Peng.
Wang added China must guard against any suggestion of a "G2" because it would only arouse distrust and reinforce the idea that China is a threat.
Above all, China must devote more to accelerate the reshaping of its growth pattern, cut greenhouse gas emissions and manage its finances, said Shi Yinghong, a senior expert on international relations with Renmin University.
Fighting corruption and narrowing the wealth gap should also be key goals, he said.
"We should not be affected by what others say," he said. "China may be doing things that make other countries unhappy but we must resolutely protect our interests and reject Western intervention in our affairs."
(China Daily 01/26/2010 page6)