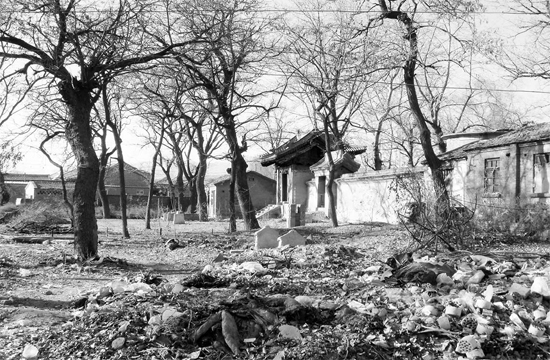 Dongyue Temple, an ancient heritage site in northwest Beijing once owned by the Nalan family, is a shadow of its former glory, say villagers. Rotting rubbish covers the grounds, while its four main buildings are crumbling from a lack of maintenance. [Photo by Zhang Yuchen]

Lack of investment and rampant property development pose real threats to the preservation of China's cultural heritage, reports Zhang Yuchen
It has stood for more than 1,000 years and was once owned by a Chinese royal family, yet the corridors of Dongyue Temple no longer ring with voices in prayer, nor is the air filled with the scent of incense. Instead, it is close to ruin; the temple buildings are crumbling and the grounds surrounding them are piled high with litter.
Experts say the 18,000-sq-m complex, which is in Beijing's northwest Haidian district, has suffered decades of neglect despite being included on two lists of key cultural heritage.
"My 80-year-old father-in-law tells me the temple was once extraordinary and magnificent, and had walls filled with giant paintings of Shakyamuni, the founder of Buddhism," said Yao Baosheng, 45, who grew up close to the site in Yongtaizhuang village. "My friends and I all played in the temple when we were children, and even then it was in poor condition."
Dongyue Temple highlights the massive challenge China faces in trying to protect cultural heritage, say experts, many of whom warn that insufficient funding and rapid property development have put vital relics under threat.
Originally built as a Taoist temple during the Tang Dynasty (AD 618-907), the site was later owned by the Nalan royal family in the 1600s and is famed for its links with ci poetry, a popular Chinese form of lyrical verse.
"It is a must-see for my Taiwanese friends every time they visit Beijing," said Ding Yizhuang, a researcher for the institute of Chinese history at China Academy of Social Sciences. "I act as a tour guide for them and I have visited the site many times. It is obviously worth protecting."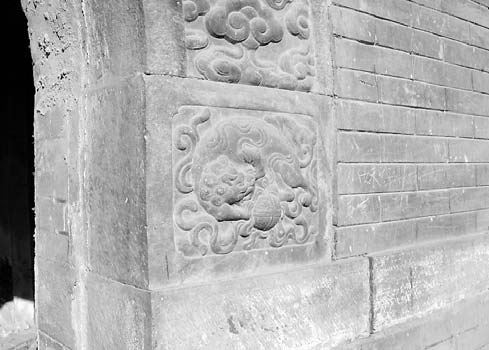 Stone carvings adorn most of the temple's door frames. [Photos by Zhang Yuchen]
Time began to take its toll on the temple's four main buildings following the fall of the Qing Dynasty (1644-1911) and in 1949 it was one of three ancestral temples incorporated into the site of a military hospital. One of the temples was demolished, while the other was converted into a conference hall.
The ancestral shrine was listed as a Key Cultural Heritage site by the Haidian district authority in 1997 following the discovery of the Nalan family tombstone. It was also named one of 30 Beijing Key Cultural Relics by the city in 2003. Yet today it is all but abandoned, with only a handful of families living in its buildings. "They are the families of either retired cleaners or workers who were employed by the hospital," a 70-year-old temple resident surnamed Wang told China Daily.
Walking through rooms on the complex, there is little sign of Dongyue Temple's former glory. Gone are the elaborate wall hangings, and visitors must now tread carefully to avoid stepping on discarded rags of clothing or rotting rubbish.
"When I was at college, I used to visit the temple about three or four times a month, and I once even played truant to spend about five hours there," said Li Junqing, 29, a diehard fan of Nalan Xingde, one of the most famous ci poets. "It was in a very sorry state even then, but it has always been a kind of home for me."
There is hope for Dongyue Temple. Bosses at the military hospital are in negotiations with the local cultural protection officials about turning the property over to the government in return for land. If a deal is successful, money could be spent to extensively refurbish the temple.
"The old temple has been useless to the hospital for a long time," said a hospital source who did not want to be identified. The hospital, which lies about 30 km from the capital, houses a general and psychiatric clinic, covers 22,000 sq m, has a capacity of 800 beds and cost about 90 million yuan ($13 million) to build, according to the official website of the hospital.
If agreed by officials in Shangzhuang, the township that administers Yongtaizhuang, the temple-land exchange plan would see the hospital receive 18,000 sq m of adjacent land on which it can expand and increase capacity, the inside source told China Daily.
The local government declined to comment on the deal. However, local media reported that, while officials are keen on taking responsibility for the temple, they are reluctant to part with a large area of land to get it .
Experts have supported the proposed exchange but many have also slammed the time it has taken for authorities to find a solution to the problem.
Little work has been done to maintain Dongyue Temple since 1949 because of limited technology and resources, according to Huang Zhaotong, former deputy general director of the Nalan Family Relics Co.
The most recent repairs were carried out in 2006 when the Haidian district culture commission and Beijing Administration of Cultural Heritage spent almost 2 million yuan to reinforce the main building and prevent it for collapsing, Beijing News reported.
"Such rescue plans, as well as the regular checks we carry out on cultural heritage sites, are mainly just to make sure buildings stay standing," said Qiu Wenzhong, director of the cultural market administrative law enforcement corps under the Haidian cultural commission. "Our officers check each heritage relic once or twice a year, sometimes even four times a year. They focus on fire prevention and ensure buildings are being used in the proper way, especially those used by work units. Most of our efforts to protect cultural relics is almost always at the 11th hour."
Companies or government work units are legally required to maintain or renovate any protected sites of cultural importance they occupy under the Law on Protection of Cultural Relics, which was implemented by the State Council in 2002. However, many business owners argue they simply do not have the funds to carry out the necessary work.
"To entirely renovate Dongyue Temple it would cost at least 100 million yuan but that is far beyond what the hospital could afford," a hospital source told China Daily.
Xie Chensheng, an advisor to the State Administration of Cultural Heritage, said he believes no relic should fall into ruin and urged local authorities to offer more help in shouldering the financial burden.
"Even if work units using heritage sites cannot pay for repairs, cultural protection departments can. The Beijing Administration of Cultural Heritage is rich enough to afford the fees, absolutely," he said.
According to Qiu, before 2007 the Haidian district government spent less than 500,000 yuan protecting relics. However, that soared to 4 million yuan last year and is expected to more than double to 10 million yuan in 2010. The annual amount spent by the Beijing cultural heritage bureau already tops 10 million yuan, he said, although the city authority did not respond to efforts by China Daily to confirm the figure.
Heritage experts say they fear government money is failing to reach those relics not recognized at municipal level.
Beijing alone has 326 heritage sites with municipal status or above. Haidian district has 16 national-level cultural relics, 21 municipal, 32 district and 280 others with minor status.
"Finance is the biggest issue in the process of preserving cultural relics," said He Shuzhong, founder of the Beijing Cultural Heritage Center, a non-governmental organization dedicated to protecting China's historical landmarks. "Once a site is classified as famous or important, it should be legally preserved. Yet even still a huge number are not being properly protected. It is usually only relics recognized at national level that are well cared for."
The temple-land exchange plan was first mooted in 2002 but the deal broke down "because the local authority were more interested in agricultural revenue than saving a temple," said Huang Zhaotong. The talks restarted in 2007.
"The idea of exchanging land for cultural relics was not new even in 2000," said Qiu. "There have been several cases in Beijing, such as Dahui Temple, a Ming Dynasty (1368-1644) site also in Haidian. However, only White Tower Temple in Xicheng district has so far been fully renovated , costing more than 100 million yuan."
The amount of land being demanded by the hospital could be a stumbling block to the transfer of Dongyue Temple, he said. "I don't think the negotiations will be completed in the short term."
While the future of the site remains uncertain, villagers have raised concerns about the temple being made into a tourist attraction if it is handed over to the local government.
"Pilgrims would start flooding into the village if it was renovated, and I am just worried the original flavor of the site will be lost," said Zhou Weixin, a villager in his 80s. "A lot of the original pieces from the temple have already been destroyed."
Culture expert Ding agreed and added: "Development always follows protection, and it is usually commercial development. That is not a good way to protect the true value of this cultural heritage."
(China Daily 01/25/2010 page5)