Stabbing in Beijing highlights the need for more legal awareness among migrant workers, experts say...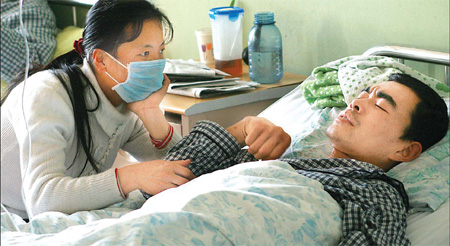 Gao Zhiqiang, 28, lies in his bed in Chaoyang Hospital, Beijing, as he is comforted by his wife Zhang Li. Doctors removed Gao's kidney after he was stabbed following a row with his employer about unpaid wages. [Feng Yongbin/China Daily]
Gao Zhiqiang was last week stabbed after arguing with his boss about 70 yuan ($10) in unpaid wages. To save his life, doctors had to remove Gao's kidney and his family now face medical bills of more than 40,000 yuan.
The 28-year-old moved to Beijing with dreams of earning big money and, like most migrant workers, was scraping together every last penny he could before heading home for Spring Festival.
Instead, he will return to his poor family in Hebei province a broken man, unable to work and riddled with debt.
"My husband has lost a kidney," sobbed Gao's wife, Zhang Li, as she sat by his bed in the Jingxi branch of Chaoyang Hospital. "I have not had the strength to tell our three children or Gao's mother yet. They will be heartbroken."
Although extreme, legal professionals told China Daily that Gao's case highlights how some employers in China are badly abusing migrant laborers, many of who have little knowledge of contracts or workers' rights.
The stabbing in Beijing's Shijingshan district follows several highly publicized cases in recent years of protests and suicide attempts over unpaid or delayed wages.
Gao swapped life on his farm in Hengshui, Hebei, for a job in one of the capital's garment factories last October. But the company went bankrupt just two months later.
He began looking for work at a job market in Lishuiqiao of Beijing and, on Jan 8, was hired with several others by a labor contractor surnamed Bao, who promised 70 yuan each for four hours' work unloading coal for Shougang Group, a large iron and steel company. Half way through the second day, however, Gao said Bao refused to pay the rate agreed and instead offered 70 yuan per day.
About 20 laborers protested without success before Gao dialed the police emergency hotline to complain. He called three times before local police arrived, but they refused to get involved because it was a civil dispute and left shortly after, said Gao.
Bao allegedly then offered to lead the workers to a different location where he would pay them. But en route a car blocked their path and a man carrying a knife got out and stabbed Gao in the waist.
Coworkers rushed the victim to hospital where he underwent emergency surgery to remove his damaged kidney.
"He was really satisfied with himself for earning 140 yuan for eight hours of work on the first day, but with the medical bills it means he will have to pay out 300 times more than he ever earned in this city," said Gao's brother-in-law, Song Haisheng.
Police officers from Shijingshan district visited Gao in hospital and asked him to identify his boss from 12 mugshots. A spokesman for Beijing police said the boss has been detained.
If anyone is convicted for the vicious attack, the family will be able to claim compensation. However, Zhang said she has received little information about the investigation and fears her family could be left in financial crisis.
"My family is desperately running out of money. I don't know how we can afford the medical bills. I've tried everyone I can think of who could help us," she said.
Gao is in a stable condition but has a mild fever, said a nurse at the hospital. He will eventually be discharged to return home to Hebei.
"The capital should not be such a dangerous place for migrant workers," Gao told China Daily. "I will never come back here to earn extra money. If people knew what migrant workers had to go through, they would understand how disadvantaged we are."