Chinese migrant workers help drive emirate to success, reports Zhang Haizhou from Dubai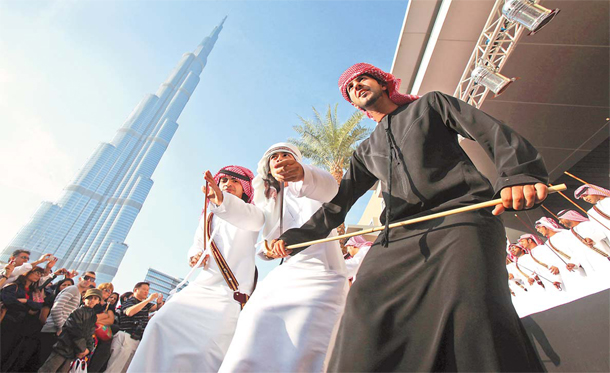 Musicians perform in the center of Dubai as part of celebrations to mark the completion of the Burj Khalifa, which at 828 m high is regarded as the tallest tower in the world. [Photo/Yoshua Arias] 

Ni Shuhua is a construction laborer, while air stewardess Qiyuan works for one of the world's most famous airlines. Their careers could not be farther apart, yet they share a common bond: Both are part of the Chinese workforce that has helped drive Dubai's success.
About 200,000 Chinese work in the United Arab Emirates, said Gao Youzhen, China's consul-general in Dubai. Figures from the Federation of Gulf Cooperation Council Chambers of Commerce and Industry also show roughly three quarters live in Dubai.
Related readings:


 Mainland tourists flock to Mideast
The United Arab Emirates has become a popular destination for Chinese tourists, with many attracted to Dubai, arguably the most glamorous of the seven emirates.


 Entrepreneur lives like a sheik after business success 
Virgos by their nature are meant to be conservative and lack determination for change, but when it comes to Zhang Junyi the horoscopes have got it all wrong. "Action!" he yells. "Once you feel good about a business plan, just go for it."
Trade between Dubai and China progressed despite the global financial crisis and hit 96.8 billion AED ($26 billion) in 2008, 36 percent higher than in 2007, show official statistics.
"In particular, gold and gold jewelry trade was more than 411 million AED in 2008," said Basil Al-Awami, international relations manager for FGCC Chambers, who added that Chinese imports reached
368.8 million AED, while exports to Dubai stood at nearly 34 million AED.
Many presume Chinese head to Dubai with dreams of making big money as merchants, yet those living in the city say only half own businesses or enterprises. The majority, including Qiyuan - who declined to give her family name - and Ni, work at one of Dubai's many hotels, shopping malls and international corporations, and on its construction sites.
To outsiders, the city is all skyscrapers, fine hotels and unique wonders, such as the manmade Palm Island. But for residents, real life happens away from this glitzy facade.
Chinese gather in mainly two areas: Dragon Mart, a huge Chinese shopping center in the north that opened in 2004 and has 4,000 stores, and Deira, the "city of shoes".
Deira comprises three buildings, each with at least three floors, and is surrounded by narrow streets lined with small shops offering Chinese groceries, basic necessities and cheap cell phones. The people who gather here are perhaps not the emirate's wealthiest residents, but form the grassroots workforce that has contributed to the city's prosperity for more than a decade.
As an air stewardess for Emirates, 26-year-old Qiyuan does not live at either Diera or Dragon Mart. But she still considers herself part of the foreign workforce.
"Cabin crew are also laborers, aren't they?" she said after an eight-hour journey from Beijing to Dubai. She had not been working on flight EK309, though. "I'm here to resign," said Qiyuan, who up until 2007 worked at the Beijing branch of a large foreign bank.
Being cabin crew for a major airline would be the dream job for many young Chinese. Besides a salary of more than 15,000 yuan ($2,000) a month, the position also offers the chance to visit many exotic destinations, along with other benefits. Qiyuan said that Emirates always accommodated staff in the top hotels.
But behind the glamour is an exhausting job, she said, explaining that because of the constant jet lag she no longer had a routine body clock, causing her to have many sleepless nights. "It is truly miserable."