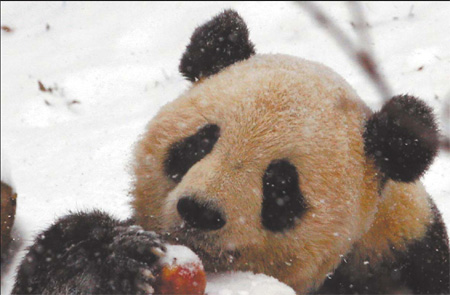 Tai Shan, a panda at the National Zoo in Washington, DC, USA, reaches for an apple on his farewell frozen cake on Jan 30, 2010. [AP]
CHENGDU:A panda-breeding center in Chengdu, Sichuan province, is looking for a Chinese language teacher for one of the two pandas due to arrive from the United States on Friday.
The pandas, Mei Lan, 3, and Tai Shan, 4, who were born and raised in zoos in Washington, will land at the Chengdu Shuangliu Airport tomorrow afternoon.
Related readings:


 US panda lovers brave snow to bid farewell to Tai Shan


 Panda Tai Shan ready to head back home


 Pandarazzi seeking webcam for Tai Shan in China


 Panda's trip to China leaves giant hole in US city


 Giant pandas - envoys of Sino-US friendship
"Mei Lan has been living in the United States since she was born, and she must be unfamiliar with Chinese, especially the Sichuan dialect," said Huang Xiangming, director of the animal management department of the Chengdu Research Base of Giant Panda Breeding.
The base has also asked the public to choose a "boyfriend" for Mei Lan, as she had reached the mating age, he said.
The center dedicated a Web page on popular Internet portal Sina.com on Jan 28 to Mei Lan.
"She will be taught Chinese with a Sichuan dialect. She will become familiar with some simple phrases," Cui Kai, a worker at the base told the Associated Press. "For example, she will be taught the phrases for returning to the cage or coming out from the dormitory."
According to Yang Feifei, an official in the base, 14 young people from different parts of the country have applied for the job.
Mei Lan has been living at Zoo Atlanta since she was born in September 2006. Her parents, Lun Lun and Yang Yang, arrived in Atlanta in November 1999.
Tai Shan, who was born in July 2005 and raised at the National Zoo of Washington DC, will later go to the Bifengxia Base of China Conservation and Research Center for the Giant Panda (CCRCGP) in Ya'an, Sichuan province.
Tai Shan was supposed to come to China at the age of two. The Chinese government agreed to postpone the panda's return twice in 2007 and 2009 at the request of the National Zoo.
Tai Shan's father Tian Tian, 13, and mother Mei Xiang, 12, are due to return to China in December next year.
According to the agreements reached by Chinese and American authorities, giant pandas are only loaned to the United States for scientific studies and all cubs must be sent back to China.
There are 13 Chinese giant pandas in four zoos in the US.
Giant pandas, known for being sexually inactive, are among the world's most endangered animals.
About 1,600 giant pandas live in China's wild, mostly in Sichuan and the northwestern provinces of Shaanxi and Gansu. Another 290 are in captive-breeding programs.
Leading Chinese panda experts have confidence that both Tai Shan and Mei Lan will adapt to their homes in China quickly because pandas have a strong ability to adapt to the climate and food.
"China, which is the giant panda's natural habitat, has the ideal climate and food for the bear," said Li Desheng, CCRCGP deputy chief.
He said that Tai Shan will live in the reserve's Bifengxia base, which was ruined in the 8.0-magnitude earthquake on May 12, 2008.
"Bifengxia, which is the habitat of the giant panda, has the ideal climate and food for the bear," he told China Daily.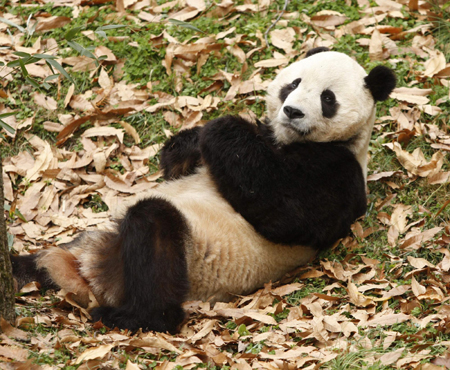 Giant Panda bear Tai Shan, 4, is pictured in his enclosure at the National Zoo in Washington, December 4, 2009. [Photo/Agencies] 
The mountain, which has an annual average temperature of 14 degrees Centigrade, abounds in bamboo, the staple food of the panda.
"About 40 types of bamboo are suitable as food for the giant panda. The Bifengxia base will provide about eight types for Tai Shan so that we will find which is his favorite," the deputy chief said.
He said many experts and keepers in the Bifengxia base can speak English and communicate with Tai Shan who will meet visitors after being in quarantine in Bifengxia for 30 days.
The Chengdu Research Base of Giant Panda Breeding has found a volunteer who is proficient in English, Huang said.
Both the CCRCGP and the Chengdu Research Base of Giant Panda Breeding will send people to receive the pandas at the Chengdu Shuangliu International Airport.
Huang said Mei Lan's American keeper will stay with her in the base for half a month to help her adapt to the new environment.
In addition to bamboo, Zoo Atlanta will provide Mei Lan with a biscuit rich in fiber. It is made of grain and albumen.
Xinhua contributed to the story