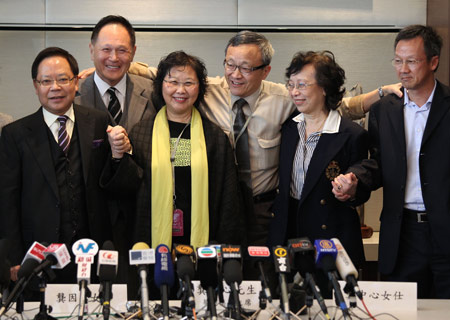 Relatives of the late tycoon Nina Wang, sister Kung Yan-Fum (third from left), brother Kung Yan-Sum (fourth) and sister Molly Cong (fifth), smile at a press conference in Hong Kong yesterday, after a local court rejected a feng shui master's claim for Wang's wealth. [China Daily]
HONG KONG: A 2006 will, submitted by feng shui master Tony Chan in support of his claim as beneficiary to the estate of Asia's wealthiest woman at the time of her death, was declared a forgery yesterday in court, with the estate awarded to the Chinachem Charitable Foundation, founded by Nina Wang and her husband.

The estimated HK$100 billion fortune of Wang will go to charity instead of the private pursuits of the feng shui master, High Court Justice Johnson Lam ruled yesterday.
"The court finds that the 2006 will was not signed by Nina," Lam wrote in his ruling on the case nicknamed the "Battle of the Wills," which has received blanket media coverage in the city.
Lam favored testimony and reports by handwriting experts that the signature on the 2006 will is "a high-quality simulation".
The judge also cited Wang's lengthy commitment to charitable causes.
"As evidenced by the interviews she was a kind-hearted person devoting a lot of her time and money to charitable causes," Judge Lam wrote.
In his judgment, Lam called the 2002 will held by the Chinachem Charitable Foundation "the product of Nina's charitable aspiration, an aspiration consistently held by her both before and after her probate dispute (with her father-in-law)".
As far as her estate was concerned, "she placed a higher regard on her charitable objectives than (Chan)," Lam wrote.
Repeatedly, Judge Lam discredited Chan's version of events whenever Chan's testimony was different from other witnesses.
The judge said that Chan was not a credible witness.
"I find he is prepared to say anything to advance his claim in this action," the judge said.
Judge Lam said he has no doubt that given Tony Chan's reputation and experience, he clearly was a feng shui master of some repute. In the judge's estimation, Chan chose to represent himself as an inexperienced dilettante in order to conceal the fact that payments he received were for feng shui services and not gifts from his lover, Nina.
Reacting to the judgment, Chinachem lawyer Keith Ho said: "The Chinachem Charitable Foundation is very pleased with the result".
"The 2002 will is held to be the valid will. According to this will, the estate of Wang will be inherited by the foundation. The foundation will carry out its charitable purpose," he said, adding Chan's team has less than a month to lodge an appeal.
Speaking to reporters at Nina Tower after the judgment, Wang's surviving brother, Kung Yan-sum, said the foundation will cooperate if the police launch an investigation into the forgery. He shared a Chinese axiom, which translated says, "good will be rewarded with good."
"I believe the whole society will feel happy with the judgment as the foundation serves the public welfare," he said.
The 2002 will calls upon the foundation to set up a Chinese prize akin to the Nobel Prize and sets aside funds for her late husband's family along with assistance to the staff of Chinachem and their children.
Related readings:


 HK court rules Nina Wang's fortune belongs to charity


 Closing arguments begin in Nina Wang case inheritance wrangle


 Testimony concludes at Nina Wang trial


 Chan tried to isolate Nina Wang: Witness
Tony Chan's lawyer, Ian Mill, said it was "out of the question" that the 2006 will is a forgery and there would be an appeal.
If the appeal court agrees that the will is a forgery, Chan could face criminal fraud charges.
Wang, known for wearing pigtails and miniskirts, was nicknamed "Little Sweetie" in Hong Kong. She won a separate legal battle with her father-in-law for control of her late husband's estate just two years before her death in 2007.
Chan befriended Wang when she tapped his feng shui expertise to help her find her missing husband, who was declared legally dead in 1999.