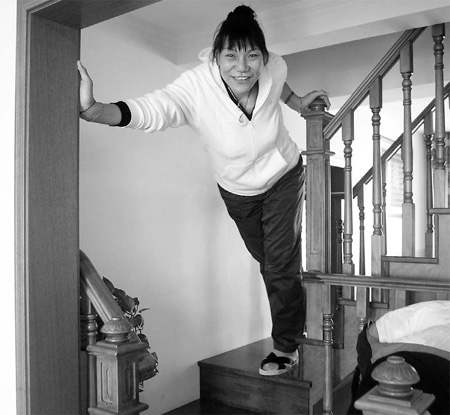 Former women's basketball star Zheng Haixia at her home in Beijing on Jan 29. [Yang Shizhong] 
Ex-women's basketball icon retiring from court in her stride
Standing 2.04m high, Zheng Haixia is not yet the tallest woman in China.
But the Chinese basketball player still managed to use her height to get a leg up in a stellar career that made her one of the best in the field.
The former player of the Women's National Basketball Association (WNBA) in the United States joined the Los Angeles Sparks in 1997 and became the first Asian player to enter the league in its inaugural season.
That was five years before her male compatriot, Chinese superstar basketball player Yao Ming, was picked up in the 2002 National Basketball Association (NBA) draft to end up as center for the Houston Rockets.
Zheng also helped the then Los Angeles Lakers player Shaquille O'Neal with free throws during games.
Averaging 26.4 points, 13.1 rebounds on an astounding 83.5 percent from the field, she was also named the Most Valuable Player (MVP) of the 1994 Women's World Championships, an honor that Chinese men's players have not been awarded yet.
Almost a decade after retirement, the 42-year-old Zheng is now captain of the Chinese PLA junior team and still in love with basketball, a sport that has taken her from the countryside to the country's capital, and the international arena. It has also given her fame and fortune, including a military rank of senior colonel and a large apartment located only 2 km from Beijing's Summer Palace.
But her demanding career also injured her right knee and left her limping.
Her fame - and height - has also helped keep her from finding romance.
"I know fans care about me a lot and wonder whether I'm a little dejected (for being single). I'm just taking things as they are," she told China Daily in the living room of her duplex home, where she lives with her 59-year-old sister and the sister's two and a half year old grandson.
"I can't make a hasty choice. As a celebrity, I don't want to make a mistake. When I'm not 100 percent sure, I prefer not to try," Zheng said.
"I admit this kind of thinking leaves me a little tired. I also understand it must take great courage to marry a well-known person like me."
The only relationship Zheng had was almost 20 years ago and one that lasted more than two years.
Her partner then was slightly taller than Zheng and asked to break up by sending her a picture.
"He drew a big tree and a little grass under it. I knew he was facing great pressure and he didn't want to live under my shadow."
Born in Zhecheng county of Henan province in 1967, the then 16-year-old Zheng made her debut at the 1983 World Championships and helped China win a bronze medal.
At the 1992 Barcelona Olympic Games, she led the Chinese team to runner-up position and repeated the achievement at the 1994 World Championships as the MVP.
Playing as a center, the fierce competition under the basket has helped Zheng develop an open mind and stay optimistic.
"As a player, we have to push and shove on the court, we have to fight bravely. Spectators also get accustomed to your image as a forthright and bold person. It would seem awkward if you appear shy and bashful in public," Zheng said while doing up her long hair.
But behind a height that surpassed most women's and 18-sized feet, lay a tender mind with a taste for fashion.
Zheng showed fans a new look when she appeared in a number of talk shows over the past two years, when she dressed in bright-colored skirts instead of loose sportswear, as well as displayed her skills in knitting a sweater with intricate patterns.
In fact, she took care of all the needlework when she was one of the youngest and most dexterous members of the national team.
Besides the medals, trophies and plaques displayed in Zheng's study room are numerous perfumes she collected during her round-the-world playing career. She also has two piercings on her right ear and numerous dresses in her closet.
"When you can't show your gentle and quiet side on the court, you can do so in your personal life. I enjoy my life very much now," she said.
As manager of the PLA junior team, Zheng had just returned to Beijing from the squad's annual 45-day training program in Qinhuangdao, Hebei province. On normal working days, she spends time in the gym and watches over the team's training. In the office, she is also in charge of financial affairs and other matters.
Back home, Zheng enjoys playing with her sister's grandson and checking the latest news of the WNBA and Women Chinese Basketball Association.
A former world-class player, a former head coach of the PLA team and a former captain of the PLA senior team until last summer, Zheng admits the current job is not as challenging as before. But she does not feel lost.
"It's a comparatively easy job and a more relaxing schedule, but it doesn't mean it's less important. The teens are the future of the PLA team and even China's squad," she said.
"No one can dominate the center of the stage forever. As long as you don't make light of yourself, no one can," she said.
"Watching the teens grow mature is just like watching a baby getting bigger, it offers me a great sense of achievement."