Top universities look for prospective students with weird and wacky interview and test questions
If Confucius and Lao Tzu, the two most famous philosophers from the Chinese history, were to have a fight, which one would you cheer for?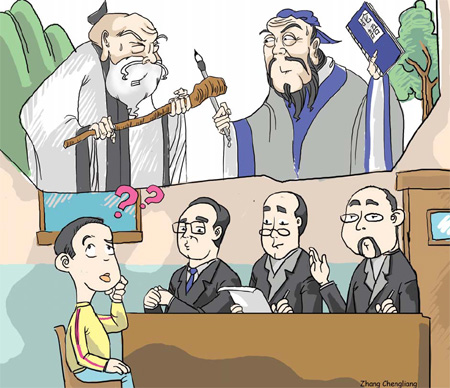 How can you put a match into a triangle shape without breaking it?
And how can you describe today's China in one word?
These odd questions may sound like something from TV's Who Wants to Be a Millionaire but they are actually part of a serious examination of student's comprehensive knowledge for independent admission into China's top universities.
Rather than taking the nationwide college entrance exam, students who excel academically and who have versatile talents can enrol at prestigious universities by taking exams set by the universities themselves.
The top 22 universities, including Peking and Tsinghua, will admit 5 percent of students this way.
This year's exam has stirred debates from some exam-takers and education experts.
Liu Qiankun, 17, complained that some of the questions were too difficult to understand.
"The questions are absurd," said Liu, a senior high school student from the High School Affiliated to Renmin University after taking Tsinghua's independent admission exam.
On a question requiring the test-taker to mark pauses on an unpunctuated piece of ancient writing, Liu found it difficulty to understand the meaning.
"I read it many times but still didn't understand what it was talking about," said Liu.
Famous contemporary poet Sha Yi said in an interview with Chinese Business View that the question about picking either Confucius or Lao Tzu was foolish.
"Confucius and Lao Tzu are both treasures of Chinese culture," he said. "We should not be applauding one while denying the other.
"Chinese people always think dualistically, resulting from the current university educational system. If a thing is not right, it is not necessary wrong either."
However, an education expert, surnamed Zhang, disagreed, saying most were open questions.
"The 'strange' questions sound perfectly reasonable to me," he said. "Questions like these encourage students to pick up more extracurricular knowledge and enhance their independent-thinking ability."
A teacher, surnamed Liu, who teaches a graduating class at the High School Affiliated to Renmin University, suggested that students should make more effort in preparing for the university entrance exam rather than the independent admission tests.
"Despite the massive amount of time spent on preparation for the independent admission exams, it is hard to say whether students will secure a place at a top university," Liu said. "These students might have a better chance of enrollment if they focus more on the university entrance exam."
More than 10,000 students applied for Tsinghua University through high school recommendation and self-recommendation.
Less than 400 can be enrolled, Beijing Morning Post reported.
The difficulty and unanticipated questions in independent exams have increased the burden on students and teachers who prepare them.
Many high schools have launched additional tutoring classes for students to study things outside of textbook.