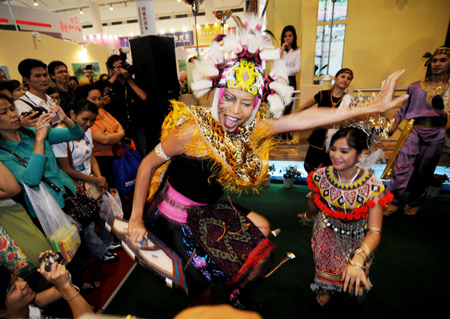 Bruneian dancers perform at a China-ASEAN expo in Xining, Guangxi, in November 2008. [China Daily] 
Global opportunities to emerge from tariff-free market in Asia
China's top brands could be on the road to becoming global household names after the launch of the $4.5 trillion China-ASEAN Free Trade Area (CAFTA) market, the world's largest free trade zone, according to trade experts.
Despite the country being an economic powerhouse, few of its big companies have ever made a major impact on the world stage.
But if they dominate the 1.9 billion-population CAFTA, Chinese companies could build a platform from which to attack European and North American markets.
China will have made the switch from being a developing country exporting cheap goods to finally making a success of globalization.
Zhang Tianbing, founder of international management consultants AT Kearney's China Research Center in Shanghai, said China companies could move from being regional to global players.
"Chinese companies have never successfully taken advantage of globalization and this could be one of the opportunities presented by the free trade area," he said.
"If they establish dominant market positions in the region they could move on to do the same in Europe and North America. It would be a major stage in the evolution of the economy."
The China-ASEAN Free Trade Area came into being on Jan 1 with 90 percent of goods set to be tariff-free between China and Indonesia, the Philippines, Thailand, Singapore, Malaysia and Brunei.
Li Shunde, chairman of Guangyuan Tian Mei Jewelry Co, based in Guangyuan in Sichuan province, is one entrepreneur who sees the CAFTA area as a platform on which to eventually attack world markets.
"I see the ASEAN market as the first stop on the way to selling in international markets. The free trade area with its zero-tariff policy is a major opportunity for us," she said.
China's largest private car manufacturer Geely is another that expects to benefit from the free trade area.
Yu Xueliang, vice-president of Geely, has confirmed he has had discussions about setting up car manufacturing facilities in Indonesia, where it already has an assembly plant.
"Indonesia doesn't have an indigenous carmaker and the total number of vehicles produced there is just around 600,000 a year. The country has a big population and plenty of potential, however," said Yu.
"We are going to extend the scale of the plant and expand other operations there in alliance with other companies," Yu said.
Indonesia is one country to voice concerns about China using the free trade area as a dumping ground for cheap goods it cannot now sell to western markets because of the economic crisis.
Indonesian President Susilo Bambang Yudhoyono was still coming under pressure from his own parliament to ask for a delay in the implementation of CAFTA - even after the launch date - to protect the country's footwear, textile and food beverage industries.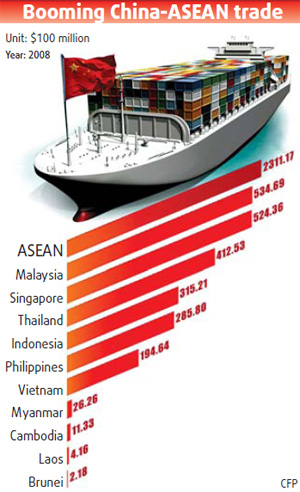 Ignatius Lim, commercial counselor at the Singapore embassy in Beijing, said Indonesia's reaction was understandable.
"Officials there need to protect domestic factories so as to maintain people's living conditions. Under such an economic situation, even developed countries tend to protect themselves by initiating anti-dumping and other measures," he said.
Zhang Yunling, director of the Institute of Asia-Pacific Studies at the China Academy of Social Sciences, said far from being a negative influence, China could prove to be the engine of growth in the region.
"Although some countries have voiced their worries, ASEAN should take advantage of the speed of China's growth," he said.
Zhang at AT Kearney insisted China was unlikely to assert as much power as the United States does in the North American Free Trade Agreement, one of the largest other free trade areas along with the European Union.
He believes it could be Chinese manufacturing under threat from imports from other Southeast Asian nations where production costs are lower.
"Chinese manufacturers are no longer the lowest cost producers anymore. What you will see is a lot of Chinese companies setting up production facilities in places like Thailand and Indonesia and exporting goods to China. This will have the effect of Chinese manufacturing moving to cheaper places in western China," he said.
One company planning to do this is Haier. It already manufactures refrigerators in Prachinburi province in Thailand, its first factory in Southeast Asia.
It intends to take advantage of zero tariffs to import some fridge models back into China.
Wu Yong, general manager of Haier Electric (Thailand), said the products could have a competitive edge in the Chinese market.
"The founding of the FTA will give more momentum to China and ASEAN enterprises to expand their business in each other's market," he said.
Xu Ningning, deputy secretary general of the China-ASEAN Business Council based in Beijing, said China and ASEAN countries already had a successful trading relationship before the introduction of the free trade area.
Trade between the two parties has been increasing at 20 percent a year and reached $231 billion in 2008.
Related readings:


 Experts: ASEAN free-trade accord is a win-win deal


 China-ASEAN free trade area starts operation


 Sixth China-ASEAN Expo opens to embrace free trade area


 Free trade to lift ASEAN+6 GDP by 1.3 pct
"Some small- and medium-sized enterprises in ASEAN worry cheaper but better Chinese products would destroy their domestic business when the tariff is cancelled. The area's success, however, will be judged by whether enterprises in all countries feel any real benefit," said Xu.
Zhang at AT Kearney expects China to have a dominating influence and can envisage the area adopting the yuan as a single currency in the future as happened with the euro in European Union nations excluding the UK.
"You already see the yuan accepted in a number of Southeast Asian nations alongside the domestic currency. I think if we look into the future this could be a possibility," he said.