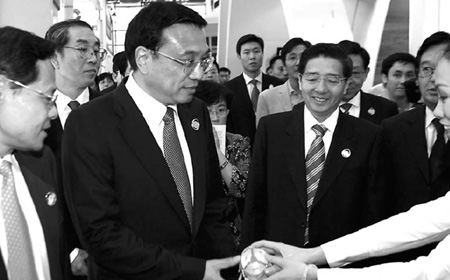 An elated staff person gives Vice-Premier Li Keqiang (center) a gift as he pays an inspection visit to the Guangxi Exhibition Hall of the 6th China-ASEAN Expo in Nanning, capital of South China's Guangxi Zhuang autonomouse region, Oct 19, 2009.[China Daily/Huo Yan]


NANNING: A high profile exposition co-hosted by China and ten southeast Asian countries opened here on Tuesday to make final preparations for a free trade area amid the lingering global economic downturn.
The 6th China-ASEAN (Association of Southeast Asian Nations) Expo is a platform to enhance connectivity and strengthen communication and consultation between China and countries in this region.
Related readings:


 China-ASEAN Expo to open in S China, embracing upcoming FTA


 6th China-ASEAN Expo to kick off in Guangxi


 2009 China-ASEAN Image Ambassador Competition


 ASEAN optimistic on trade with China
Chinese Vice Premier Li Keqiang, together with leaders and high ranking officials and businessmen from the ten ASEAN countries, attended the opening ceremony of the annual event in Nanning, capital city of south China's Guangxi Zhuang Autonomous Region.
The ten ASEAN countries are Brunei, Cambodia, Indonesia, Laos, Malaysia, Myanmar, the Philippines, Singapore, Thailand and Vietnam with a total area of 4.5 million square kilometers, whose economies were seriously damaged by the financial crisis in 1997.
In a time of rising global trade barriers, the Expo this year is seen as an important opportunity to strengthen communication and consultation on the China-ASEAN Free Trade Area (FTA), which will be realized by January 1, 2010.
It is the first free trade area agreement signed by China that would provide zero tariff on 90 percent of products traded between China and ASEAN and other favorable policies on trade and investment.
The FTA is expected to cover 1.9 billion population in this region.