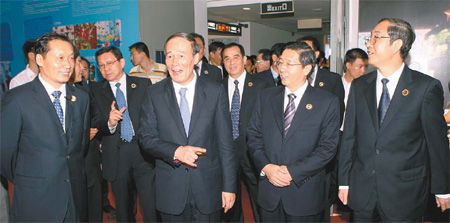 Vice-Premier of the State Council Wang Qishan (third from left), accompanied by the Party Secretary of the Guangxi Zhuang autonomous region, Guo Shengkun (second from right), Chairman of Guangxi, Ma Biao (first from right), and vice-chairman of the region, Li Jinzao (first from left). Photos by Huo Yan
The sixth China-ASEAN Expo (CAEXPO) will open from Oct 20 to 24 in Nanning, capital of south China's Guangxi Zhuang autonomous region, attracting a record number of ASEAN exhibitors to display their commodities, mostly food, agricultural products and handicrafts.
According to the secretariat of CAEXPO, this year's expo will have 4,000 booths, about 600 more than the last expo, of which 10 ASEAN countries will take 1,169 booths, almost one-third of the total. Indonesia, the Laos, Malaysia, Myanmar, Thailand and Vietnam will have independent exhibition halls. The Philippines will have 50 booths, Cambodia 80 booths and Singapore 16.
Countries outside ASEAN, including France, Japan and South Korea, will again participate in the expo, while Hungary and Madagascar will join the fair for the first time.
ASEAN countries, France and Japan will all have a presence at the special exhibition "City of Charm".
Both domestic and overseas purchasers are very active in the expo. China's Jiangxi and Sichuan provinces have already submitted names of buyers. They will join purchasers from ASEAN countries, the US, France, Italy, Spain, Japan, South Korea, the United Arab Emirates, Australia and New Zealand. Among some 30 overseas purchasing groups, India and Kazakhstan are sending buyers to CAEXPO for the first time.
Exhibits mainly include consumer goods, redwood furniture, jewelry, clothes, decoration, palm oil and related products, coconuts, seafood, coffee, fruit beverage, dried fruit, fish paste, bird's nest, perfumed candles, amethyst, silver ornaments, pottery and porcelain.
New exhibitions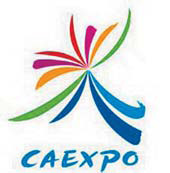 The first-ever agricultural exhibition will be held in Guangxi Exhibition Hall during the CAEXPO, with more than 500 exhibitors from 11 countries and regions.
Participants from China and the ASEAN countries will mainly showcase agricultural products in large demand and along with fresh fruit, tea, wine, farm machinery, agricultural chemicals and fertilizer, which will provide more choices for the economic and trade cooperation of both sides.
Nearly 50 enterprises from Taiwan province will display local specialties like flowers and teas in the exhibition.
Some 250 domestic leading enterprises and famous brands are also on the exhibition list, including Nongfu Spring, Panpan Food, Shanxi Fenjiu Group, Qufu Confucius Family Liquor, Zhujiang Beer and Guiyang Nanming Laoganma Special Flavor Foodstuffs.
According to the organizers, the agricultural exhibition will open to the public for five days from Oct 20 to 24.
Another highlight of this year's expo is the China-ASEAN Financial Cooperation and Development Leadership Forum, with the theme "to deepen exchanges and cooperation, and to establish a China-ASEAN financial service platform".
A financial services exhibition with 125 booths will be held as an affiliated activity of the forum. In addition to many domestic banks, insurance institutions and financial service organs, overseas financial institutions, including Nanyang Commercial Bank, Development Bank of Singapore, and Saigon Thuong Tin Commercial Bank, will present at the exhibit.
Roundtable discussion
The sixth China-ASEAN Business and Investment Summit will be held at the same time with the CAEXPO. According to the Secretariat of CABIS, the summit this year will launch a roundtable discussion for entrepreneurs to talk directly to the government leaders, in order to reach more substantial achievement.
Vice Premier of Vietnam Nguyen Sinh Hung and the heads of some large-scale enterprises in Vietnam will be invited to the roundtable discussion, having dialogues with their Chinese partners, including leaders from China Construction Bank, PetroChina and China Road and Bridge Corp.
It is reported that more than 150 entrepreneurs have signed up for attending the meeting so far, the theme of which is "work together to cope with crisis and to promote common development".
European partner
The French champagne house Champagne Henri Giraud will sponsor the CAEXPO with its fine products as specified champagne for guest reception, making it the first European enterprise to become a cooperative partner of China-ASEAN Expo.
It plays an exemplary role and will generate more attention on the expo from the companies in Europe and America, said Zheng Junjian, secretary-general of the CAEXPO Secretariat.
A manager of the agent of the French champagne brand said that they planned to promote more famous brands to cooperate with the expo and to display more products of France in this international exhibition.
Direct charter flight
During the expo, temporary direct charter flights will shuttle between Nanning and the capitals or main cities of the ASEAN countries, including Bandar Seri Begawan in Brunei, Phnom Penhin Cambodia, Jakarta in Indonesia, Vientiane in the Laos, Kuala Lumpur in Malaysia, Yangon in Myanmar, Manila and Cebu in the Philippines, Bangkok in Thailand, Singapore city in Singapore, and Ho Chi Minh City in Vietnam.
Aside from providing convenient transportation services to the exhibitors and visitors, the direct charter flights will also help prepare the future regular international flight routes from Nanning to the ASEAN countries, which will make Nanning a more international city and effectively improve the tourism and commercial exchanges between Guangxi and the ASEAN members.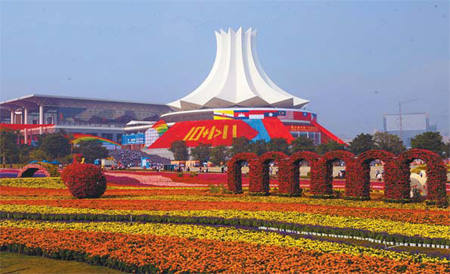 The venue of the China-ASEAN Expo (CAEXPO). The sixth CAEXPO will open on Oct 20.
(China Daily 10/19/2009 page10)