Inspired by an ancient muse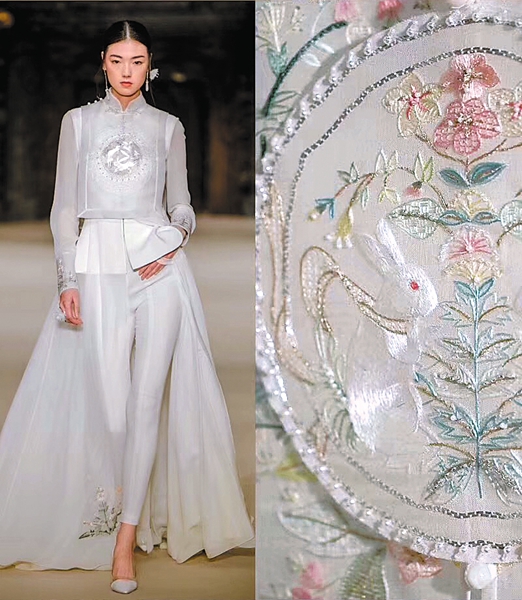 Homage to traditional Chinese culture
By 2008, Xiong had made a name for herself as a fashion stylist and had a regular client base of artists, celebrities and TV hosts, including Chinese singer-songwriter Huo Zun.
"Her designs bring traditional Chinese culture to life through her contemporary aesthetic. I love the variety of elements in her works, such as the hanfu (traditional ethnic Han attire) and her use of gradually fading ink," says Huo, who has been wearing Xiong's designs for around two years.
In 2016, Xiong presented her 2017 spring/summer collection at Paris Fashion Week. The series, which featured a mix of ceramics and silk, was inspired by Yuanmingyuan, the royal summer resort in Beijing during the Qing Dynasty (1644-1911).
In 2017, Xiong staged a fashion show on the theme of inheritance at the Opera de Paris, presenting designs inspired by the stories of the "four famous ancient Chinese beauties"-Xi Shi, Diao Chan, Yang Yuhuan and Wang Zhaojun.
On Sept 30, she presented her latest summer/spring collection for 2020 in Paris on the theme of traditional Chinese opera. She based her ideas on Chinese opera pieces, including the Peking Opera, Farewell My Concubine, and the Kunqu Opera, The Peony Pavilion, which she watched as a child with her grandfather.
"Chinese culture provides me with endless inspiration for my designs. Chinese traditional arts and crafts-from making porcelain to ink painting and dyeing by hand-allow me to create new designs for a contemporary audience," she says. "Those great cultural elements speak for themselves. Through fashion design, which is a mutual language like music, international audiences can gain a better insight into China."