Inspired by an ancient muse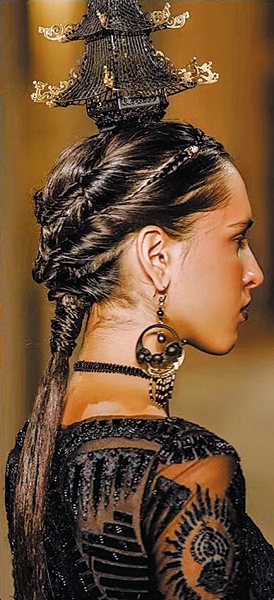 She still has a large wooden box stored in her home in Changde, in which her mother and grandmother put all their precious embroidered clothes and ornaments.
"Those clothes and ornaments were handed down from generation to generation in my family, and my mother used to air them in the sun once a year to prevent them from being destroyed by moths. It's like a family tradition, which I find fascinating," Xiong says.
She named her fashion brand Heaven Gaia after Gaia, the personification of the Earth and one of the earliest Greek deities, as a way to pay tribute to her mother and grandmother. She also dedicates the brand to Chinese women, who she says are "full of love and wisdom".
"Gaia is the ancestral mother of all life, and she represents the beauty of women. For me, Chinese women are beautiful and have unique fashion tastes," says Xiong, who loves fashion styles from across the ages but especially the Tang Dynasty (618-907).