Personal rapport can guide ties in new era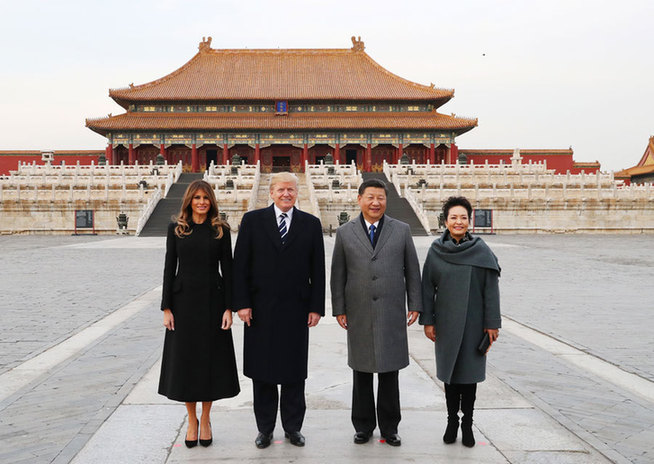 President Xi Jinping and his wife, Peng Liyuan, and US President Donald Trump and his wife, Melania Trump, pose for a photo in front of the Hall of Supreme Harmony during their visit to the Palace Museum, or the Forbidden City, in Beijing on Wednesday. LAN HONGGUANG / XINHUA
That China and the United States do not see eye-to-eye on every issue is something that is often in the public eye, given that the sticking points that are holding back Sino-US relations, such as trade frictions, the right way to approach the denuclearization of the Korean Peninsula, and the South China Sea issue, are frequently pushed to the fore.
But these are not the totality of their relations, and they do not need to define their relationship, as wisdom and foresight can narrow the divergences between the two sides.
And it is wisdom and foresight that the leaders of the two countries are expected to show by providing strategic guidance for the development of relations during US President Donald Trump's three-day visit to China, which began on Wednesday.
The interwoven interests of the world's two largest economies, which are also one another's largest trading partner, have paved the way for growing cooperation. US and Chinese companies signed 19 deals worth $9 billion on Wednesday, with bigger deals expected to be inked at a ceremony attended by President Xi Jinping and Trump on Thursday.
And they have worked hard to address specific differences on diplomatic and security issues, trade and the economy, social and people-to-people issues, and law enforcement and cyber security in the first round of high-level strategic dialogues agreed at the Mar-a-Lago meeting between Xi and Trump in Florida in April.
Equally important has been the personal rapport that the two leaders have established, with Trump expressing his appreciation of the welcome arranged for him when he arrived in Beijing, saying he was having a "great time".
His visit is being described as a "state visit plus" because of the special arrangements that have been made for the two heads of state to interact informally. And given personal bonds play an important role in forging trust in foreign relations, there is ample reason to believe there will be tangible outcomes from their conversations.
That their discussions in April proved fruitful has led to expectations that by enhancing their personal bonds progress will be made on what Vice-Foreign Minister Zheng Zeguang said are "significant issues of common concern".
Certainly, by reaching new consensuses, they can inject fresh impetus into the development of China-US relations for the new era, which will benefit the peoples of both countries, and realize the hopes of the international community that they can better work together for the common good.
Today's Top News
Editor's picks
Most Viewed