Taking a lead in fight against malaria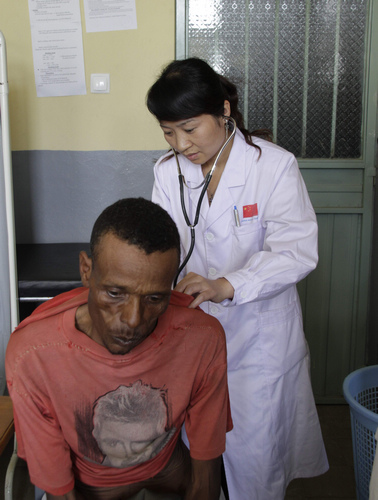 A patient receives medical treatment from a Chinese doctor in Addis Ababa, the capital of Ethiopia. Chinese doctors often provide free services to local people. [Ding Haitao / Xinhua]
Smear campaign against Chinese drug companies 'driven by market forces', report Shan Juan in Beijing and Li Lianxing in Nairobi, Kenya.
Despite a number of reports suggesting that legitimate Chinese pharmaceutical companies have been exporting counterfeit anti-malaria medicines to Africa, the country continues to provide aid in the fight against the mosquito-borne disease.
Malaria causes approximately 1 million deaths in Africa annually, many victims being children under the age of 5.
In January, China donated malaria treatments worth $720,000 to Chad, where the illness remains one of the major causes of death.
Chinese-made anti-malaria drugs containing artemisinin, which is derived from wormwood, are cheaper, more effective, and provoke fewer adverse reactions than other treatments, which usually have quinine as the main active ingredient, according to Huang Jianyin, deputy secretary-general of the World Federation of Chinese Medicine Societies.
Chinese anti-malarials are mainly exported to Africa through government assistance, international organization procurement and the continent's existing sales networks.
On Jan 16, a report in The Guardian newspaper in the UK claimed that large parts of Africa are under threat because of the distribution of fake and poor quality anti-malarial medicines made in China.
Michael O'Leary, the World Health Organization's representative in China, said the reports often fail to provide sufficient verifiable details on the country of origin of the counterfeit products.
"And sometimes, these counterfeits actually pass through several countries before the final packaging and sale in the target countries," he added.
Because the origins of the drugs are deliberately obscured by the producers, it is extremely difficult to trace the manufacturing and distribution channels, which are often coordinated by well-organized criminal syndicates, he explained.
But O'Leary admitted that fake anti-malarials and other counterfeit medicines have been detected in Africa over a long period and pose a threat to public health.
The question is: Where do the fakes originate and who is making them?
Cao Gang, vice-dean of the China Chamber of Commerce of Medicines & Health Products Importers & Exporters, said Chinese-made malaria treatments are popular in Africa because of their affordability and efficacy and are therefore likely to be targeted by counterfeiters.
Meanwhile, Yin Li, director of China's State Food and Drug Administration, suggested that market dynamics may be one motive behind the allegations.
Given increased competition in the pharmaceutical industry, and the rising global potential for drug production and supply, "the drug issue has become subtly subject to existing trade protectionism and the current economic recession," he told the administration's annual work meeting on Jan 10.
A report in People's Daily in late 2012 suggested that the accusations may be related to China's increasing share of the African pharmaceutical market.