The journey home begins for millions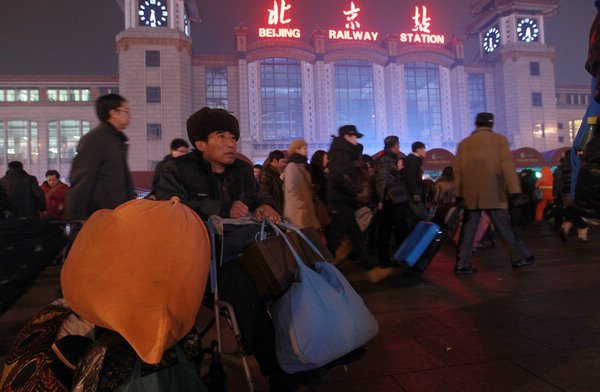 The Beijing Railway Station is one of the busiest places in China during the world's biggest travel rush. [Cui Meng / China Daily]
The world's largest migration of humanity starts, report He Na and Jiang Xueqing.
Every year, at this time, millions of Chinese embark on the world's biggest travel rush - the trek home.
With joy, or possibly frustration after toiling for the past year, a huge proportion of the population will set out on a journey of reunion for the country's most important holiday - Spring Festival.
Possibly as many as a billion people will shuttle between the cities where they live and work and their hometowns for the holiday.
To ensure the smooth running of the world's largest annual migration, extra travel services are being organized from Jan 26 until March 6. A record 3.41 billion trips are expected to be made.
In addition to the railway system, which will bear the brunt of the pressure, airlines, road and shipping networks have all geared up to meet the surge in passenger numbers.
The rail network is expected to handle 225 million trips, while long-distance buses will transport up to 3.1 billion passengers. The combined figure accounts for 99 percent of China's rail and bus capacity, according to Xinhua News Agency.
Some 35.5 million journeys will be made by air during the festival's peak, a rise of 4.9 percent from the same period last year.
Obviously, such a huge number of travelers will stretch the country's transport network to its limits and pose challenges for each part of the system.
While some will enjoy the luxury of air travel, for many millions more the journey means being stuck in overcrowded train carriages for long, boring journeys that will take many hours.
China Daily asked five people, representative of different groups in society, to share their stories of the journey home.