Wages may appear attractive, but other factors come into play, report Hu Yongqi and Yang Wanli in Beijing.
With savings after six years in Singapore, Yang Wu started the Qihang Consulting Center for Workers Going to Singapore. As the name suggests, this is an online agency that helps Chinese workers find jobs in the country.
Yang had been one of the millions of Chinese migrant workers overseas. By the end of 2010 they numbered 5.4 million and along with Chinese companies operating overseas contributed revenue of $7.36 billion to the economy, according to the Ministry of Commerce.
After graduating from a technical school in Fujian province, Yang traveled to Singapore with dozens of young men, hired through a local agency for foreign labor. "The agency charged each of us 20,000 yuan ($3,208)," said Yang.
However, life in Singapore was not as comfortable as many had imagined.
"Chinese people are more or less discriminated against by the locals because we take their jobs," said Yang. "For the same job, we were paid less than the locals and we sometimes needed to do extra work. About half of my friends left because of the unfair treatment. Some had only been in the country for a couple of months."
Yang was paid S$800 ($654) for his first month's work. Although the salary was nearly twice that of a recent graduate on the Chinese mainland at the time, the monthly pay of Yang's Singaporean colleagues was double that of the Chinese workers, around S$1,600.
Life after work was also tough. Yang and five compatriots squeezed into a small room of about 5 square meters so they could avoid the high rents in Singapore, which has more than 5.3 million people living on its 713 square kilometers of land.
Yang's salary, although lower than the Singaporean average, encouraged him to work hard. Meanwhile, the country's strict labor laws, including payment for overtime, also satisfied the Chinese workers. In 2011, his salary was increased to S$2,000 a month.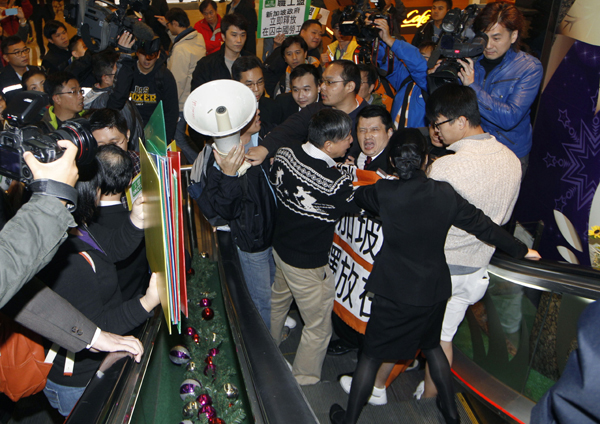 Security guards prevent members of a labor union from marching to the Singapore Consulate General in Hong Kong on Wednesday. The protesters were demanding the release of a Chinese bus driver who was sentenced to six weeks in prison for his involvement in Singapore's first strike for 26 years. [Photo/Agencies]
However, the perceived inequity felt by many Chinese workers rose to the surface on Nov 26 when 171 Chinese bus drivers working for Singapore Mass Rapid Transit Corp went on strike to express their grievance over "unequal pay and poor living conditions". The strike was later ruled illegal in accordance with Singaporean law, said the Ministry of Manpower in an e-mail reply to questions from China Daily.
Of the five drivers taken to court, one was sentenced to six weeks in jail, while the others were released on bail of S$50,000, which was paid by local friends on Dec 6. They are due to attend the court again on Dec 12. A further 29 drivers were repatriated.
After the incident, Chinese working overseas came under fire as experts said they should have learned more about the cultures of the host countries and utilized local laws to protect their rights.